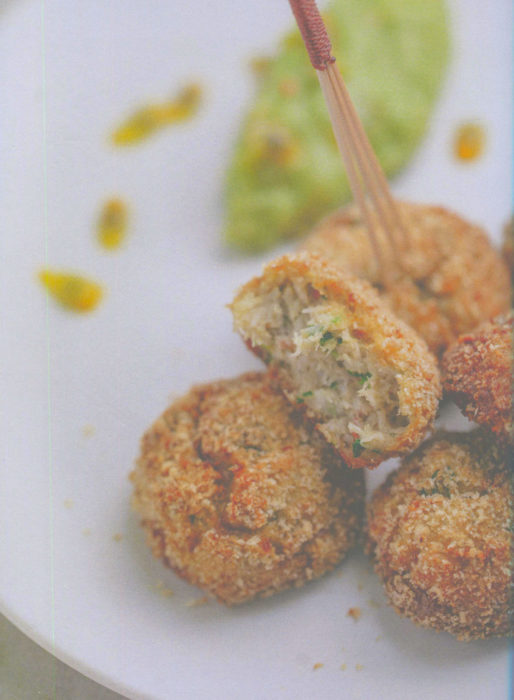 In his cook-by-the-season book, Simple Nature, Alain Ducasse offers Ten Principles for great cuisine. Among those are: Cook and Eat Seasonally and Eat More Vegetables and Less Meat. It's not all veggies, though, as this recipe from the Winter chapter shows.
This is a recipe designed to make a cold winter night quite pleasantly comfortable. Croquettes are a prototypical comfort food. Crab and avocado are natural mates. And here that avocado is extended in flavor with passion fruit. The dish is sumptuous, perfect for dining during the end of year holiday period. Let it snow.
---
Crab Croquettes and Spicy Avocado with Passion Fruit
Yield: serves 4
Ingredients:
6 slices sandwich bread
12-15 cooked crab claws
5 sprigs cilantro (coriander)
¾ inch-length ginger
 2 eggs
1 tablespoon heavy cream
8 tablespoons olive oil
2 organic, unwaxed lemons
3 avocados
Salt
Cayenne pepper
2 scallions
2 passion fruits
Preparation:
Make the fresh bread crumbs
Cut the bread into small pieces. Put the pieces in a food processor and grind into crumbs. Transfer to a plate.
Prepare the crab croquettes
Crack the crab claws and remove the meat. You should have about 9 ounces in total.
Pluck and mince the cilantro. Peel and grate the ginger. Break the eggs into a bowl. Add the cream, 4 tablespoons of the olive oil, and the cilantro and ginger. Mix. Zest, then squeeze one lemon; add the zest and juice to the bowl. Mix, then add the crab meat. Continue to mix until smooth.
Shape the mixture into small croquettes and coat them in the bread crumbs as they are made. Transfer to a baking dish and refrigerate until they are very firm, about 1 hour but not until they are firm.
Make the spicy avocado
In the meantime, halve the avocados and remove their seeds. Use a teaspoon to scoop out their flesh and transfer to a food processor. Add the juice of the second lemon, some salt, and a pinch of cayenne pepper. Blend until smooth. Transfer to a bowl.
Peel and mince the onions and add to the bowl. Cut open the passion fruits, scoop out their seeds and juice, and add to the bowl. Mix gently and refrigerate until it's cool.
Finish and serve
Preheat the oven to 350°F. Put the dish with the croquettes in the oven and cook for 12 minutes. Let cool a little, then arrange them on plates. Put a serving of spicy avocado next to the croquettes and serve.
---
Source: Source: Simple Nature by Alain Ducasse [Rizzoli,2017]