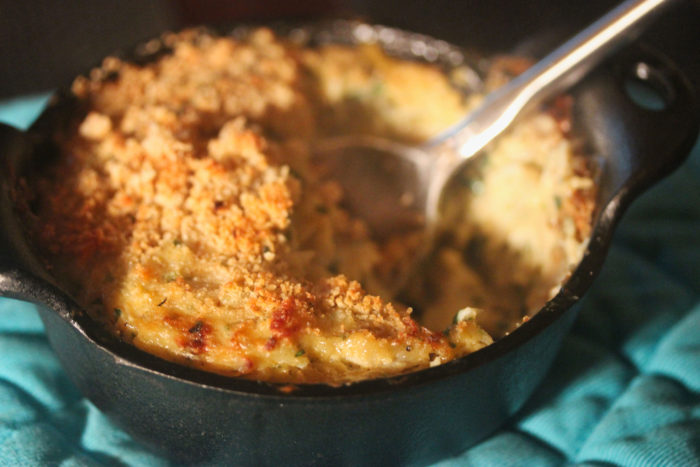 I went to school in Baltimore and I could have eaten crab three meals a day. I didn't then. I wish I had now.
Crab Imperial is a spicy crab casserole that you find on menus on both shores of the Chesapeake Bay. It's impossible to say which recipe is best. Adam Fleischman, the author of Flavor Bombs, grew up in Maryland and enjoyed this dish for years. Here is his personal version with an extra umami kick of sherry. No Old Bay Seasoning here. Adam tells you to use fundamental, and fresh, spices.
Serve piping hot. Suzi cooked this in those little individual cast iron pans you can find. It was charming and perfectly crabby. This was our Christmas dinner, a tad remote from turkey.
---
Crab Imperial
Yield: serves 4
Ingredients:
2 tablespoons unsalted butter
2 tablespoons all-purpose flour
¾ cup whole milk
1 large garlic clove, peeled and lightly crushed
½ cup dry sherry
1 teaspoon Dijon mustard
½ teaspoon dry mustard
½ teaspoon sea salt
½ teaspoon Piment d'Espelette or cayenne pepper
2 pounds lump crabmeat
2 tablespoons finely chopped fresh flat-leaf parsley
½ cup Parmesan Bread Crumbs (see page 48 in your copy of the book), untoasted
Preparation:
Preheat the oven to 450°F, with the rack in the upper third.
Make a bechamel: Melt the butter in a small, heavy saucepan over medium-low heat. Add the flour and whisk for about 2 minutes, until the flour is well incorporated. In a slow stream, whisk in the milk, then add the garlic. Raise the heat to medium and bring the mixture to a boil, still whisking, then reduce it back to low and simmer, whisking, until the bechamel is thickened, about 3 minutes. Remove from the heat and discard the garlic. Set aside.
In a medium bowl, whisk together the yolks, sherry, mustards, salt, and Piment d'Espelette, then add the hot bechamel in a slow stream, still whisking. Pour this mixture back into the saucepan and cook over very low heat, whisking constantly, until an instant-read thermometer registers 160°F, about 2 minutes. Remove the pan from the heat and gently stir in the crabmeat and parsley. Pour into a large cast-iron skillet (or, if you have a couple small cast-iron pans or large ramekins, you can divide the mixture into individual portions).
Sprinkle the Parmesan Bread Crumbs liberally over the crab to coat. Bake until the crab is bubbling and the crumbs are golden brown, about 5 minutes. Remove from the oven and set the skillet on the table so everyone can serve themselves, or heap a generous spoonful onto everyone's plate.
---
Source: Flavor Bombs by Adam Fleischman [HMH 2018]
 Photo Information: Canon T2i, EFS 60mm Macro Lens, F/2.8 for 1/25th second at ISO‑3200