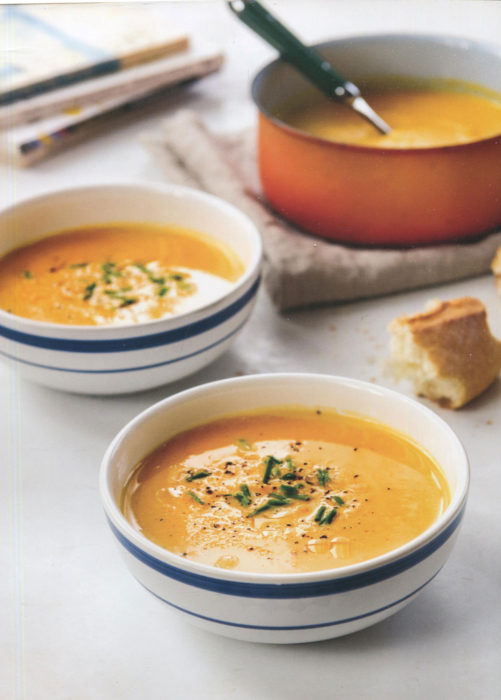 In her lovely In the French Kitchen with Kids, Mardi Michels displays her love of French food and the elegant, elevated cuisine she ate when living in Paris. Of course, she admits, she had only a small kitchen there and often had to resort to store-bought food. But as she walked the streets of Paris, it was impossible to not encounter one of the lovely markets offering really fresh, really local produce.
Now living in Canada, Mardi has fashioned this remembrance of Parisian vegetable soup: creamy, think, and filled with veggie flavors. This is, surely, a recipe you can do yourself, do with your kids, or just turn you kids [say 10 and above] loose in the kitchen to learn the magic of vegetables. Oh, yes. There are turnips here and, if you have never partaken, you simply must.
Creamy Vegetable Soup
Yield: serves 6-8
Ingredients:
2 tablespoons unsalted butter
1 large (7 oz/200 g) yellow onion, roughly chopped
2 cloves garlic, minced
½ medium (1½ pound) butternut squash, peeled, seeded and roughly chopped
1 large (7 ounce) carrot, peeled and roughly chopped
3-4 small (7 ounces total) turnips, peeled and roughly chopped
½ medium (7 ounces) cauliflower, roughly chopped
½ teaspoon flaky sea salt
½ teaspoon freshly ground black pepper
2 cups chicken stock
2 cups milk
Flaky sea salt and freshly ground black pepper, for seasoning
Sour cream or thick Greek yogurt for serving [optional]
Preparation:
Melt the butter in a large pot over medium· heat, then add the onion and garlic. Cook for about 5 minutes, stirring occasionally with a wooden spoon until the onion is just starting to soften but not brown.
Add the squash, carrots, turnips and cauliflower with the½ teaspoon salt and½ teaspoon pepper and give them a good stir in the pot to coat them well with the butter.
Pour in the stock and milk, increase the heat to high and bring to a boil.
Turn down the heat to a simmer and cook, partially covered (with the lid slightly off the top of the pot), for about 30 minutes. The vegetables should be fairly soft at this point
Remove the pot from the heat and allow the soup to cool slightly.
Use an immersion blender or a regular blender to puree the soup.
Taste and adjust the seasonings with more salt and pepper, if you like. If you don't find the soup creamy enough, you can swirl in a spoonful of sour cream or thick Greek yogurt just before serving.
Source: In the French Kitchen with Kids by Mardi Michels [Appetite by Random House, 2018]