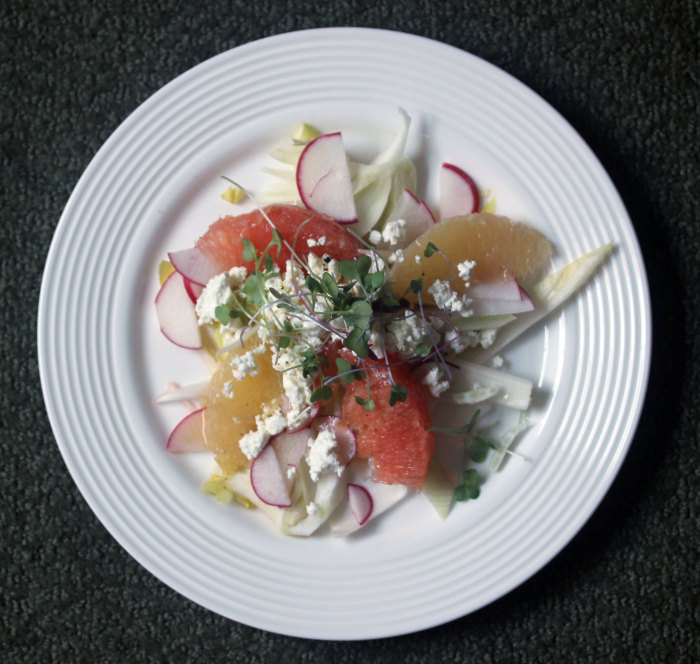 It is the Saturday after Thanksgiving. You may be fooded out. The thought of protein may cause the ends of your lips to dip in a shaky frown. You need, you want something light, easy to make, and as refreshing as a bite of a crisp autumn apple. No apples here, actually. But radishes thrive on your plate.
This salad is just the ticket, as far from turkey as you could possible get. After some heavy meals, that picture above speaks volumes. You may enjoy this salad on its own for the meal, or you may seek a bit more: some toast with goat cheese, a bowl of soup, a small side of pasta drizzled with olive oil and topped with herbs. No matter what you select, this spectacular salad will shine as the star of the table.
---
Crimson and White Citrus Salad

Yield: serves 6

Ingredients:

2 pink grapefruits
5 1/2 ounces mild, sweet radishes thinly sliced
1 head of red Belgian endive, julienned
1 small fennel bulb, julienned
Juice of 1 lemon
½ teaspoon sugar
¼ cup extra virgin olive oil
Salt and black pepper
1 cup crumbled feta cheese, ideally barrel-aged
Handful of crimson microgreens (if available)
Leaves from 5 sprigs of mint, torn
Preparation:

For the salad, cut the grapefruits into segments, cut a slice from the bottom and top of each fruit so they have a flat bottom on which to sit. Using a sharp knife, cut the peel and pith off each grapefruit, working around the fruit and cutting the peel away in wide strips from top to bottom. Working over a bowl, slip a sharp, thin knife in between the membrane on each side of each segment and ease the segment out.
Cut the leaves from the radishes (if they are really fresh and perky, set them aside to add to the salad). Trim off and discard the unsightly part from the bottom of each radish, then wash really well. Using a knife or a mandolin slicer, cut into wafer-thin slices.
Discard any blemished outer leaves from the endive and cut the remaining leaves, lengthwise, into slices. Trim the tips from the fennel (keep any little feathery leaves for the salad) and quarter. Remove the tough outer layer of leaves and cut a little slice off the core. Again using a knife or mandolin slicer, cut the fennel into thin slices. As soon as you cut each piece, toss it with half the lemon juice (otherwise the fennel will discolor).
Whisk together the rest of the lemon juice with the sugar, extra virgin oil, and salt and black pepper to make the dressing and taste.
Arrange all the fruits and vegetables you've prepared on individual plates-or one large plate-and add the feta, the microgreens (if you're able to get any), and the mint. Spoon the dressing on top and serve immediately.
Source: A Change of Appetite by Diana Henry

Photo Information: Canon T2i, 18-55mm Macro Lens, f/3.5, 1/30th second, ISO-3200