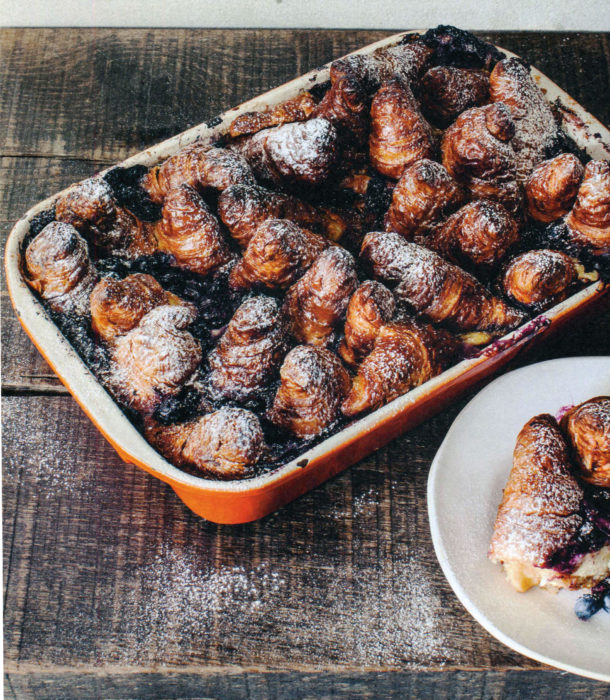 Here's a bread secret. Those croissants you love? Get them as soon after they are baked as possible. After about four hours, they are not the same. They may still be good, but they will not be great. If they have been sitting in the bread case of your local supermarket for a day or more, they are bread but they are not croissants.
Wasted croissants then? No, not all. Here's a great solution from Gail's Artisan Bread. Roy Levy and Gail Mejia wrote this cookbook based on their bakery experiences in London. The intent was to provide great [aka French quality] bread in a town that was not famous for its bread baking. The first store opened in 2005 and now there are over 20. For good reason: inventive recipes that stretch the limit of how to use bread in delicious ways that you'll fondly return to over and over again.
How do you extend the lifecycle of a croissant? Custard. And berries. The recipe below uses blueberries, but you could surely substitute blackberries or strawberries. Just remember, those more thin-skinned berries will "leak" some color. There is no spice in this recipe but you should feel free to add a teaspoon of your favorite or even favorites: cinnamon, allspice, nutmeg. Even ginger! You cannot go wrong in moderately amending this recipe, so have some fun and enjoy the benefits of your personal preferences.
---
Croissant Bake
Yield: 18 small buns
Ingredients:
For the bread pudding:
20 grams butter at room temperature
8 croissants, 1-2 days old
For the bread custard:
6 eggs
500ml milk
500ml double cream
I50g caster sugar
½ teaspoon fine sea salt
1 vanilla pod
300g blueberries
Spices of your choice, optional
icing sugar, for dusting
Preparation:
Use the soft butter to liberally coat the insides of a pudding dish about 20cm x 30cm and 7cm deep. With a sharp, serrated knife, slice the croissants in half. Lay them, cut side down, in the dish with their tails poking up.
To make the custard, beat the eggs in a large bowl. Combine the milk, cream, caster sugar and salt in a medium pan. Use a sharp knife to split open the vanilla pod lengthwise, and scrape out the seeds. Add both pod and seeds to the saucepan. Add any spices you desire, say that tablespoon of cinnamon. Bring the liquid to the boil over a medium heat, then remove from the heat and pour onto the beaten eggs in a slow stream, just a dribble at first to stop the eggs from curdling, whisking all the while.
Once all the hot cream has been added, remove the vanilla pod and use a ladle to slowly spoon the custard over the croissants in three batches. The tops of some of the croissants will peak up, Jaws-like, above the custard, so press them down gently. Leave to soak for an hour.
Preheat the oven to 350°F. Sprinkle the pudding with half the blueberries and bake for 45 minutes, rotating the dish after 25 minutes to ensure an even bake. The finished pudding should be golden brown, springy and moist, but with no liquid custard left. Leave for 10-15 minutes before serving warm, dusted lightly with icing sugar, with the remaining blueberries alongside.
---
Source: Gail's Artisan Bakery Cookbook by Roy Levy and Gail Mejia [Ebury Press, 2015]