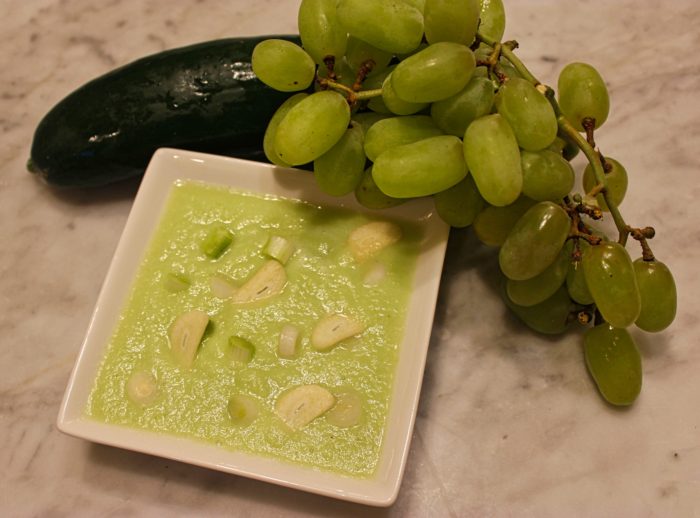 Don't worry. This is a gazpacho recipe with NO tomatoes. I obsess over gazpacho and I admit I post gazpacho recipes on a frequent basis. But, it's a great soup and a healthy dish.
I will admit even I can tire a bit of red tomato gazpacho. When Suzi and I were watching this year's edition of Chef's Table on Netflix — a must-watch if you eat food — the Chef Mashama Bailey from The Grey in Savannah offered up a cucumber gazpacho.
There was no recipe shown in that episode. But I googled and I found one at foodandwine.com that is the basis for my version below. I use less cucumber, more seedless grapes, lots of salt, and plenty of red wine vinegar.
It is the vinegar that makes or breaks this dish. The original recipe from foodandwine.com called for 2 teaspoons of distilled white vinegar. I ended up using 3 tablespoons of red wine vinegar. I suggest starting with 1 tablespoon, then taste testing and adjust before serving. You don't want vinegar soup, but you will appreciate the bite.
Like good tomato gazpacho, you'll find this best in the summer when the sun renders the cucumbers at peak flavor.
As you serve, you may wish a final touch: some drops of hot sauce to spice up the soup in your mouth. Just drops!
---
Cucumber and Green Grape Gazpacho
Yield: serves 4-6
Ingredients:
3 cucumbers [about 3 pounds]—peeled, seeded and chopped
2 cups seedless green grapes (10 ounces)
1 large garlic clove, mashed
⅓ cup extra-virgin olive oil
1 tablespoon red wine vinegar [plus more to taste]
½ cup of water
2 teaspoons salt [plus more to taste]
Garnish: sliced scallions and fresh garlic — or cooked shrimp and chopped roasted almonds — or chunks of lump crabmeat
Preparation:
In a blender, combine the cucumbers, grapes, garlic, olive oil, vinegar and 1 cup of water; puree until smooth. Season with salt. Serve chilled, garnished as you desire.
---
Source: inspired by foodandwine.com [Kay Chun, 2014]
Photo Information: Canon T2i, EFS 60mm Macro Lens, F/4 for 1/30th second at ISO‑200