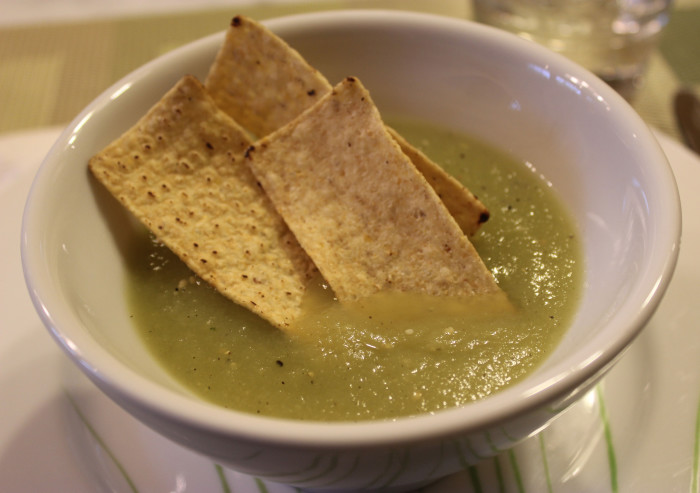 Last week I posted a recipe for Watermelon, Cucumber and Tomato Gazpacho. It's sublime particularly as the flavor mellow and blend. The color is a soft watermelon red.
This week the gazpacho is quite different. Red is gone. Tomatoes are gone from the soup itself, but do appear in a garnish — though you won't see them in the picture here for they have deep dived to the bottom of the bowl!
No, for the soup we've gone green. All in green. The core ingredients here are cucumbers and tomatillos. Those tomatillos don't super dominate, but they do provide a lingering sense of heat. This soup is quite beautiful to the eye. As that first spoonful comes towards your opening mouth, you'll get the first whiffs of tomatillo and apple cider.
Like any gazpacho, this soup evolves over time. It's wonderful after it is first made — with an hour of chilling of course — but becomes different and more interesting with a day or two for the ingredients to marry in your fridge.
---
Cucumber and Tomatillo Gazpacho

Yield: serves 8

Ingredients:

For the soup:

4 medium-large cucumbers (not English Hothouse; higher water content of regular cucumbers necessary), peeled cut into large chunks
3 medium tomatillos, husked and rinsed
1 medium garlic clove, peeled
3-4 tablespoons lime juice
1-2 tablespoons apple cider
1 teaspoon Tabasco sauce
For the garnish:

2 whole ripe plum tomatoes, cored, seeded, and finely diced
2 whole jalapeno chiles, stemmed, seeded, and finely diced
1 whole large shallot (½ small red onion), peeled and minced
8 sprigs cilantro, trim stems, finely chopped
Toasted cumin seeds
Tortilla strips, optional
Preparation:

In a blender, add the cucumber, tomatillos, garlic, lime juice, vinegar, Tabasco sauce and salt. Process until smooth, (adding water, 1 tablespoon at a time, if necessary). Taste and adjust seasoning. Chill for 15 minutes, unless ingredients are already chilled.
In a small bowl, toss tomatoes, jalapeno and shallot together.
To assemble, divide gazpacho among 4 to 8 servings and add a heaping tablespoon of tomato mixture. Garnish with cilantro and toasted cumin seeds.
---
Source: Corinne Trang for Cooking by the Book

Photo Information: Canon T2i, EFS 60mm Macro Lens, F/4 for 1/50th second at ISO‑400