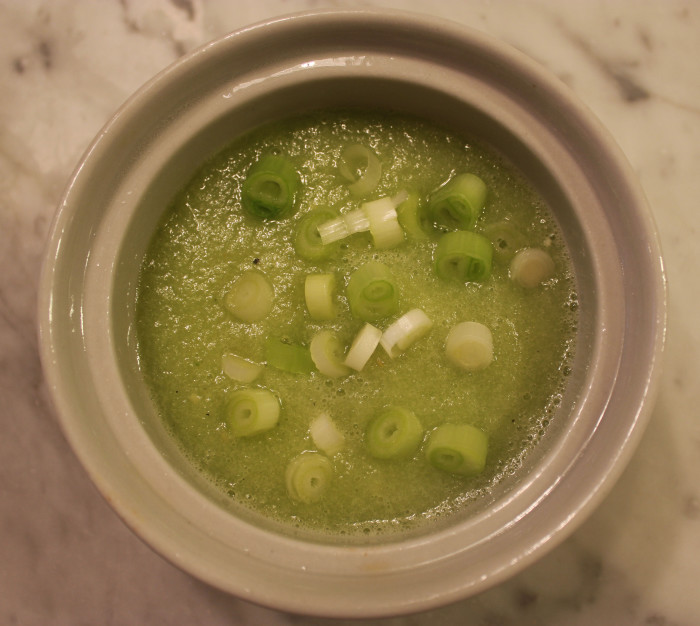 I'm a gazpacho freak. I admit it. For lunch most days, I'm enjoy gazpacho in one form or another: classic red, almond white, or deep green.
Here's a new green idea that has no tomato taste at all. I guess that because there are no tomatoes. This is cucumber and tomatillos plus just a few more things. You can knock out a batch of this in 15 minutes, enjoy it the same day, and dine on the leftovers for the rest of the week.
The flavor here is strongly cucumber, with just a hint of heat from the tomatillo and a roasted poblano. This recipe extends an earlier one of mine that lacked the poblano and onion. Both are good but this recipe has more diverse flavor profile and a touch more Southwestern character.
Like any gazpacho, this soup evolves over time. It's wonderful after it is first made — with an hour of chilling of course — but becomes different and more interesting with a day or two for the ingredients to marry in your fridge.
---
Cucumber and Tomatillo Gazpacho Version 2

Yield: serves 8

Ingredients:

For the soup:

4 medium-large cucumbers (not English Hothouse; higher water content of regular cucumbers necessary), peeled cut into large chunks
4 medium tomatillos, husked and rinsed
1 tablespoon prepared minced garlic
Juice of 2 lemons
1 poblano, roasted, skinned and diced
1 white onion, diced
4 tablespoons white balsamic vinegar
2 teaspoons sea salt
For the garnish:

Preparation:

In a blender, add the cucumber, tomatillos, garlic, lemon juice, poblano, onion, vinegar, and salt. Process until smooth, (adding water, 1 tablespoon at a time, if necessary). Taste and adjust seasoning. Chill for 15 minutes, unless ingredients are already chilled.
Seperately, slice the scallions.
To assemble, divide gazpacho among 4 to 8 servings and adorn with the scallions.
---
Source: Brian O'Rourke

Photo Information: Canon T2i, EFS 60mm Macro Lens, F/3.5 for 1/30th second at ISO‑200