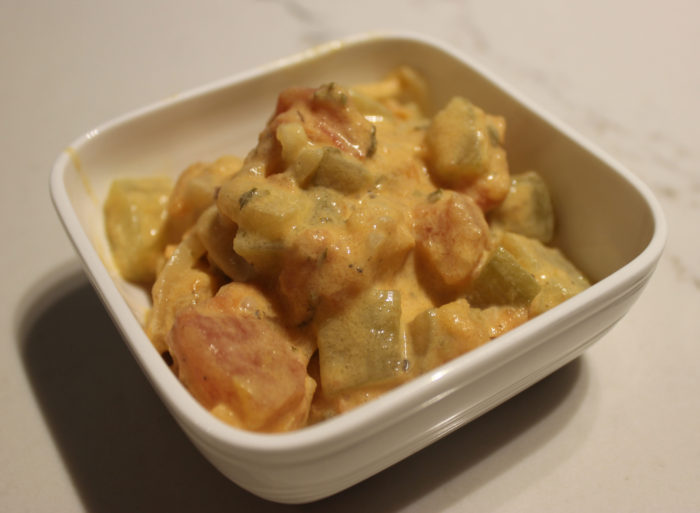 I have no idea where the name comes from. Suzi and I saw this Cucumber Neapolitana sided with the Rack of Lamb we wanted for Easter in Darina Allen's new Grow, Cook, Nourish. Now, Darina lives in Ireland and "Neapolitana" is not exactly a Celtic phrase. I've googled, I've searched, and I haven't a clue. Next year, Suzi and I hope to visit her wonderful cooking school, Ballymaloe, in Ireland. I'll be sure to ask.
If the name is a bit mystifying, so is this dish. Oh, it's very good. And it went ideally with the lamb. But I've honestly never had anything like it. The dish is quite creamy and almost seems Indian, maybe even an Indian tomato soup. Served warm with the lamb, it will surprise you and give you pause: "what is this" you will ask. Well, obviously, it is Neapolitana!
---
Cucumber Neapolitana
Yield: serves 4 to 6
Ingredients:
3 teaspoons butter

1 onion (about 4 ounces), sliced

1 cucumber

4 very ripe tomatoes

Salt and freshly ground black pepper

Pinch of granulated sugar

¾ cup heavy cream
Preparation:
Peel the cucumber and cut into ½-inch cubes; add to the onions, toss well, and continue to cook while you scald the tomatoes with water for 10 seconds. Peel the tomatoes and slice into the saucepan. Season with salt and pepper and add a pinch of sugar.
Cover the saucepan and cook for a few minutes until the cucumber is tender and the tomatoes have softened, then add the cream and bring back to a boil. Add the mint. If the liquid is very thin, thicken it by carefully whisking in a little roux. Cucumber Neapolitana keeps for several days and may be reheated.
---
Source: Grow Cook Nourish by Darina Allen [Kyle Books, 2017]
Photo Information: Canon T2i, EFS 60mm Macro Lens, F/4 for 1/30th second at ISO‑125