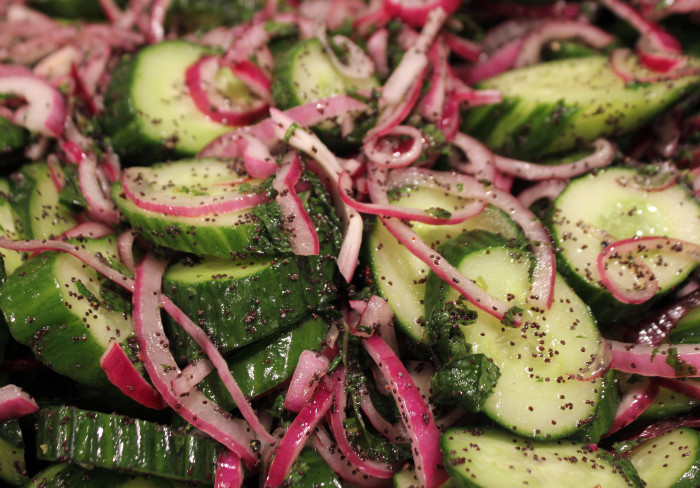 This is the salad Suzen pairs with a Moroccan Spiced Chicken [yesterday's post!]. The chicken is hot out of the oven, coated with a sweet and spicy sauce. This salad has its own heat, from different sources, and its own sweetness from honey. The salad is served cold so you can alternate bites of "hot" chicken and "chilled" salad.
This contrast is delightful and, in Suzen's menu, amplified by a Moroccan Couscous that sits between this salad and the chicken. The recipe for the couscous come tomorrow.
We adapted this recipe from the cookbook Ottolenghi, one of the three exceptional volumes by Yotam Ottolenghi and Sami Tamimi. You'll enjoy the deliciously authentic, and often simple, recipes in those books. Even better, you'll find them an inspiration to experiment and create.
In this recipe, different vinegars and honeys, different chilies, or exceptional salts can make a substantial difference in the final salad. Yes, even the poppy seeds can be swapped out for your personal favorites.
Cucumber and Poppy Seed Salad
Yield: serves 4
Ingredients:
6 small cucumbers
1 small onion, finely minced
2 mild red chilies or jalapenos thinly sliced
4 tablespoons white wine vinegar or rice vinegar
2 tablespoons poppy seeds
2 tablespoons honey
1 tablespoon parsley for garnish, optional
Kosher Salt and freshly ground black pepper to taste
Preparation:
Chop off and discard the end of the cucumbers. Slice the cucumbers at an angle, so you end up with pieces ⅜-inch thick and 1-¼ inches long.
Mix together all the ingredients in a large bowl. Use your hands to massage the flavors gently into the cucumbers. The salad should be sharp and sweet, almost like a pickle.
If not serving immediately, you might need to drain some liquid off later. Adjust the seasoning again afterward.
Sources: adapted from Ottolenghi: The Cookbook by Yotam Ottolenghi and Sami Tamimi
Photo Information Canon T2i, EFS 60 mm Macro Lens, F/5.0 for 1/25th second at ISO-3200