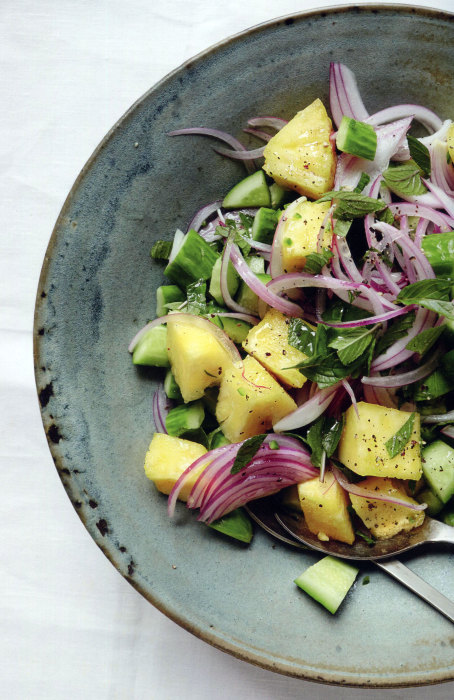 Healthy Latin Eating by Angie Martinez and Angelo Sosa is a sensational new book I blogged about last December:
Chef Angelo Sosa — visit his Anejo restaurants in NYC if you possibly can — is man with both skills and imagination. He notes that the origins of this salad are in Malaysia, but he has joyfully "Latinized" the recipe by adding pineapple. He loves the marriage of the cool cucumbers with the heat of the chile and the pineapple sweetness.
This is a fun salad, one you can enjoy will all those flavor components spinning around in your mouth.
This is the sort of recipe that needs to be eaten in one hour. And not on the next day. You need that little hour of time for flavors to integrate. By the next day, the components of this salad will begin to nudge each other. The cucumbers will have lost their snap and the flavors will "too" mixed together instead of fresh and distinct.
We often think of cucumbers as a summer food — and their cooling power surely deserves that reputation. Yet we consume "heat" and "sweet" all year long and here the cucumbers seem a natural addition and complement.
Pineapples are a symbol of hospitality. Treat yourself some pineapple pleasure. And a little heat.
---
Cucumber & Serrano Chile Salad

Yield: serves 4

Ingredients:

2 large cucumbers, halved lengthwise, seeded, and cut into bite-size pieces
1 serrano chile pepper, seeded and minced
½ medium red onion, cut in half and sliced into thin half moons
1 cup large cubed pineapple
¼ cup chopped fresh mint, or to taste
Juice of 1 lime
1 tablespoon grapeseed oil
1 teaspoon sugar
1 teaspoon kosher salt
Freshly ground black pepper
Preparation:

Toss together the cucumbers, chile, onion, pineapple, and mint in a salad bowl. Pour the lime juice and grapeseed oil over the cucumber mixture and toss to combine. Add the sugar, salt, and pepper to taste, and toss gently to combine.