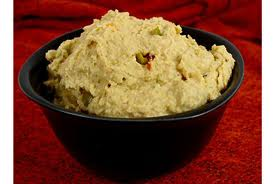 You might not expect a nice girl from Maryland to make the best hummus you ever tasted, but this is a complicated world.
Cynthia's very impactful day job is the Director of Development for the Celiac Disease Center at Columbia University. Cynthia unwinds by cooking. She and her husband Michael spend hours and hours scanning over recipe ideas, shopping, and then perfecting.
We've all had hummus. We've all been unimpressed. Now, now you will be impressed. This is absolutely the best hummus I've ever tasted. There is a pronounce ring of lemon, and then some ending heat from cayenne pepper. It's the last thing you add, so you can adjust the heat level to your preference.
If you've tasted hummus and been uninspired, this is your day. If your weekend includes a party, a family dinner, or just some snacking time, here's a wonderful addition.
Cynthia's Hummus
Yield: 2+ cups
Ingredients:
½ pound chic peas [fresh is better, canned is likely]
½ cup tahini
1 garlic clove
10 freshly squeeze lemons
1 bunch parsley
2 small pours of olive oil
Cayenne pepper to your preference
Preparation:
Put the chic peas, tahini, garlic, lemon juice and parsley in the bowl of a food processor. Pulse until mixed. Through the opening at the top, add a pour or two of the olive oil to achieve the consistency you want.
Remember, you cannot unpour.
Finally, add cayenne pepper in stages to achieve the degree of heat you like. Cynthia likes it hot and that is certainly a factor in why her hummus takes all so well.
Sources: Cynthia Beckman