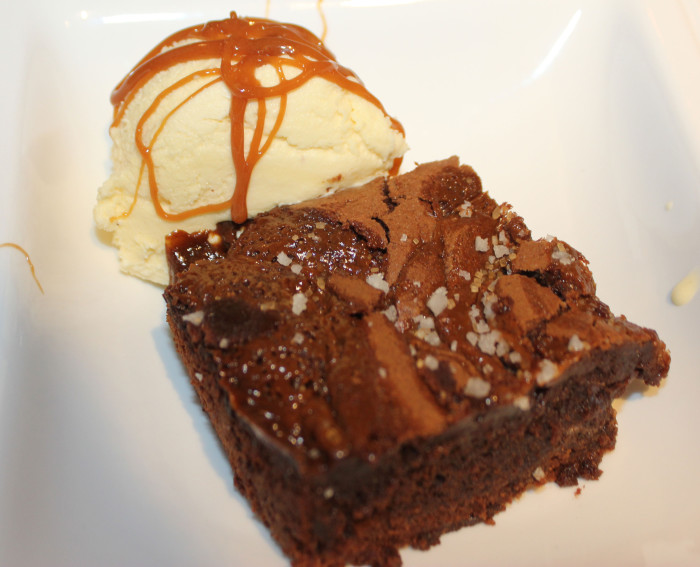 Sometimes, Suzi offers a dish at Cooking by the Book that everybody wants. Everybody. In the front of the picture you see the Salted Caramel Brownie from The New York Times and Baked. It's lovely. It's intense. Very intense. So we often pair the brownie with ice cream. You could do vanilla, but this egg nog ice cream is an excellent match. It is NOT intense. Just smooth and subtle and distinctive. Of course, if you have caramel sauce for the brownie, you do not have to be careful. Pour it on that ice cream too! There can never be too much caramel. Never.
---
Egg Nog Ice Cream

Yield: serves 4-6

Ingredients:

1 cup whole milk
¼ teaspoon salt
7 large egg yolks
¾ cup sugar
2 cups chilled heavy cream
3 tablespoons dark rum
1 teaspoon vanilla extract
¼ teaspoon freshly grated nutmeg
Preparation:

Bring milk and salt to a boil in a 2-to 3-quart heavy saucepan over moderate heat. Remove from heat.
Whisk together yolks and sugar in a bowl, then gradually add 1 cup hot milk, whisking. Add yolk mixture to milk remaining in pan in a slow stream, whisking, and cook over low heat, stirring constantly with a wooden spoon, until the mixture is slightly thickened, coats the back of a spoon, and registers 175˚F on a thermometer, 3 to 5 minutes.
Immediately pour through a fine-mesh sieve set into a clean bowl and stir in cream, rum, vanilla and nutmeg. Chill custard, covered, until cold, at least 2 hours.
Freeze in ice cream maker, then transfer to an airtight container and put in freezer to harden, at least 2 hours. Soften slightly in refrigerator before serving, about 20 minutes.
---
Source: Epicurious.com, 9/8/2006