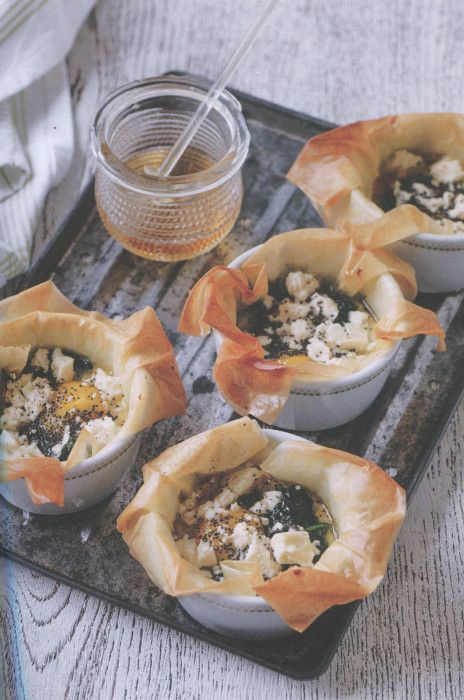 If you are reading this early Sunday morning, you have a chance to dash to the store, do some buying and return home to prepare an elegant brunch. Otherwise, you have a whole week to prepare in advance for this excellent brunch main course. It's from the new Toast Hash Roast Mash by Dan Doherty of Duck & Waffle fame in London.
You'll enjoy both books, Toast and Duck & Waffle. You can follow the links here to my reviews, of course, but first you need to get some puff pastry.
Once you make this version of the recipe, I'm sure you'll be inspired to try many other ways of constructing brunch tarts that will amaze your guests. And probably you, too!
The prep and cooking times here are mercifully short. This is just the sort of "spectacular dish" you can create in an instant, with so little effort, but with applause sure to come your way.
---
Egg, Spinach & Feta Tarts with Honey & Poppy Seeds

Yield: 4 tarts

Prep time: 10 minutes

Cooking time: 10 minutes

Ingredients:

1 ounce butter
3 ½ ounces spinach leaves s
Sea salt flakes and freshly ground black pepper
4 sheets of filo pastry
4 eggs
3 ½ ounces feta cheese
4 tablespoons honey
1 tablespoon poppy seeds
Preparation:

Preheat your oven to 350°F.
Heat a saucepan over a medium heat and add ¼ ounce of the butter. Add the spinach and cook until wilted. Season with salt and pepper, then drain well in a colander.
Melt the remaining butter in a small pan over a low heat, then, using pastry brush, brush it around the insides of 4 ramekins.
For each tart, use 1 sheet of filo. Open up the sheet, brush it with some of the butter, then fold it in half and brush with butter one more time. Lay the sheets in the ramekins, scrunching up the sides a bit. Divide the spinach evenly between the ramekins, then crack an egg on top of each. Crumble the feta over each egg.
Bake for 8 minutes, or until the pastry is crisp and golden and the eggs are set but still soft inside.
Drizzle each tart with 1 tablespoon of the honey and sprinkle with a pinch of poppy seeds.


---
Source: Toast Hash Roast Mash by Dan Doherty [Mitchell Beazley, 2016]