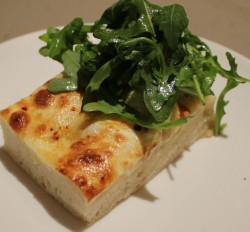 When people come to Cooking by the Book, they are always hungry and often want a quick food fix before the main meal. But, they come to our hands-on events wanting to do it all themselves. So Suzen is able to say to them: "How about an elegant pizza." There is always interest in this pizza idea and always, always consuming love as each slice of this dish is lovely devoured.
This white pizza is elegant, easy, and soothing to eat. It is visually striking, because of the whiteness and because there is no tomato red anywhere. It's a solid comfort food. Once you've enjoyed the quality of this topping, you won't be surprised to learn its origin: The Barefoot Contessa by Ina Garten.
Now, pizza toppings go on pizza bottoms. Think of that bottom as the "dessert" of the dish. It's the last thing you really taste, the last thing your top teeth cut through. If the pizza bottom is off, the whole experience is compromised. You don't want tasteless, soggy, burnt, tough, … You do want delicious, easy, … This dough, from Italian mavens Charles and Michele Scicolones' Pizza Any Way You Slice It, is the definitive pizza foundation that Suzen turns to repeatedly. It's a family favorite, one that you just never tire of, but always appreciate.
This pizza is just ideal as a meal starter. Or the centerpiece of a party table. Add salad, sangria and kick back.
There is some time needed for the dough to rise. When Suzen offers a class, the dough has been prepped in advance. If you want a pizza party of your own, then doing the dough ahead is the way to go.
White Pizza Topping
Yield: ½ sheet pan, enough for 4-8
Ingredients:
·

4 garlic cloves, sliced

·

5 sprigs fresh thyme

·

¼ teaspoon crushed red pepper

·

Freshly ground black pepper

·

3 cups grated Italian Fontina cheese (about 8 ounces)

·

1½ cups grated Mozzarella (about 7 ounces)

·

11 ounces creamy goat cheese, crumbled

·

½ cup good extra virgin olive oil

·

¼ cup freshly squeezed lemon juice

·

8 ounces baby arugula
Preparation:
Place ½ cup olive oil, the garlic, thyme, and red pepper flakes in a small saucepan and bring to a simmer over low heat. Cook for 10 minutes, making sure the garlic does not burn. Set aside.
Preheat the oven to 500°F. Coat half sheet pan with olive oil. Press and stretch the dough into a ½ sheet baking pan. Brush the dough with the garlic oil, and sprinkle with salt and pepper. Let rest 20 minutes. Sprinkle the pizza evenly with Fontina, mozzarella, and goat cheese. Drizzle the pizza with 1 tablespoon more of the garlic oil and bake for 10 to 15 minutes, until the crust is crisp and the cheese begins to brown.
Whisk together ½ cup of the olive oil, the lemon juice, 1 teaspoon salt and ½ teaspoon freshly ground black pepper. When the pizzas are done, place the arugula in a large bowl and toss with just enough lemon vinaigrette to moisten.
Place a large bunch of arugula salad on each pizza and serve immediately.
Recipe Source: The Barefoot Contessa
Neopolitan Style Pizza Dough
Yield: Dough ½ sheet pan
Ingredients:
·

1 teaspoon active dry yeast

·

1¼ cups warm water (105° to 115°)

·

1 cup cake flour

·

2 to 3 cups all-purpose flour

·

2 teaspoon salt

·

Extra Virgin Olive Oil for the bowl and sheet pan
Preparation:
In a large bowl, combine the cake flour, 2 cups of the all-purpose flour, and the salt. Add the yeast mixture and stir until a soft dough forms. Turn the dough out onto a lightly floured surface and knead, adding more flour if necessary, until smooth and elastic, about 10 minutes.
Lightly coat a large bowl with the oil. Place the dough in the bowl, turning it to coat the top. Cover with plastic wrap. Place in a warm, draft-free place and let rise until doubled in bulk, about 1½ hours.
Flatten the dough with your fist. Cut the dough into 2 to 4 pieces and shape the pieces into balls. Dust the tops with flour.
Place the balls on a floured surface and cover each with plastic wrap, allowing room for the dough to expand. Let rise 60 to 90 minutes, or until doubled.
Thirty to sixty minutes before baking the pizzas, place a baking stone or unglazed quarry tiles on a rack in the lowest level of the oven. Turn on the oven to the maximum temperature, 500° to 550° F.
Shape and bake the pizzas according to recipe.
Source: Pizza Any Way You Slice It!