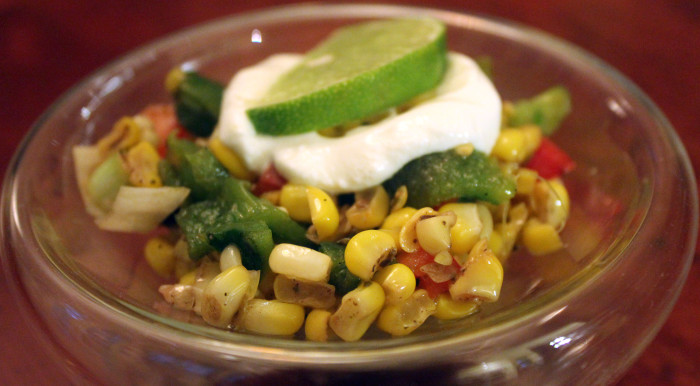 This recipe is from Yucatan by David Sterling. David knows Yucatan inside out: the homes, the markets, the small shops, the restaurants, and the street food. This dish is a street food staple, sometimes available on weekdays and always on weekends. This version uses "everything" David has seen in those street versions. Sometimes other peppers are added, or the scallions are omitted. You have perfect freedom here to mix and match away.
There is a basic, penetrating flavor that comes from the Recado Para Escabeche spice mix, a combination of black peppercorns, Mexican oregano, cloves, allspice and bay leaves. The spice balance, perfected over generations, is rich and penetrating. It does not overpower the corn, but you've probably never experienced corn with allspice. You are in for a treat.
While the suggestion is to serve this at room temperature, I have enjoyed it hot off the stove and cold from the refrigerator. And, as a side dish, it pairs with any protein.
Esquites: Sautéed Corn Kernels with Lime Juice, Cream and Chile

Yield: 10 servings

Ingredients:

To prepare ahead:

Recado para escabeche [see yesterday's post or search on this blog]
For the corn:

¾ cup olive oil, divided
4 cups fresh corn kernels
1 ½ teaspoons sea salt
1 teaspoon recado para escabeche
1 cup bell pepper, cut into medium slice
1 ½ cups chiles poblanos, charred, peeled, seeded, and cut into medium dice
½ cup scallions, thinly sliced diagonally, including some green
½ cup lime juice or Seville orange juice
For serving:

¾ cup Mexican cream [or crème fraiche, plain yogurt or sour cream] in a squeeze bottle, thinned with a bit of milk
3 ½ ounces queso cotija [or feta cheese]
Cayenne powder, to taste
Fried tortilla chips, optional
Lime or Seville orange wedges
Preparation:

Begin by sautéing the corn. Heat ½ cup of the oil in a large nonstick skillet over moderate heat. Add the corn, salt and recado and sauté 6-7 minutes, stirring constantly and scraping the bottom of the skillet to prevent sticking. The kernels should be slightly deeper golden color and barely softened but still al dente. Transfer the corn to a heatproof mixing bowl and allow to cool completely.
Add the remaining ¼ cup of olive oil and the other ingredients, except the citrus juice to the bowl of corn and toss to combine. Allow the mixture to rest at room temperature for 30 minutes to amalgamate the flavors. If you won't be serving the dish immediately, cover and refrigerate.
If the corn has been refrigerated, bring it to room temperature. Add the juice just before serving and toss to combine. Check the seasonings.
To serve, the dish is typically presented in individual serving bowls or cups and eat with a spoon. It can also be eaten as a dip with chips. Top each serving with a squeeze of cream, some crumbled cheese, and a light dusting cayenne powder.
Serve additional crema, cheese, chile powder, chips and lime wedges on the tale. Esquites is also an excellent accompaniment for seafood dishes or grilled meats.
Source: Yucatan by David Sterling

Photo Information: Canon T2i, EFS 60 mm Macro Lens, F/4.5 for 1/25th second at ISO‑3200