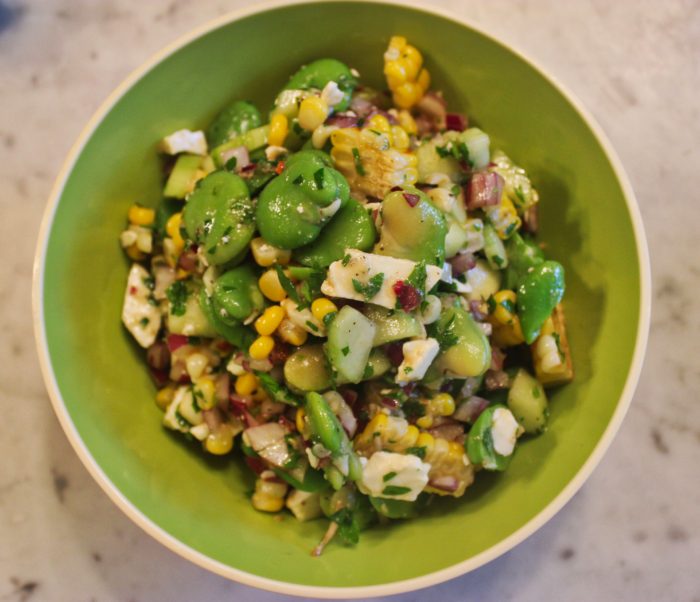 The best thing about the web is that it can quickly give you the answer to that perpetual question: what do I do with this?
Suzi had bought some fava beans at the farmers market. Now she turned to me: "Find a recipe."
Well, we had also bought some corn and cucumbers, so I was delighted to discover this recipe from marthastewart.com. Originally presented in Martha Stewart Living in May 2008, this is a fabulous recipe. It's gorgeous to behold and most yummy from the first bite to the last. It's healthy, colorful, and an excellent complement to the other dishes on your table. Pairing this with roasted chicken or a barbequed steak is a total winner. The salad is happy whether you serve beer or wine. Or both.
---
Fava Bean Salad with Roasted Garlic Vinaigrette
Yield: serves 4
Ingredients:
For the vinaigrette:
1 head garlic, ½ inch cut off the top to reveal the individual cloves
3 tablespoons red wine vinegar
¼ teaspoon red-pepper flakes
1 tablespoon extra-virgin olive oil
¾ teaspoon coarse salt
Freshly ground pepper, to taste
For the salad itself:
1 pound shucked fresh fava beans [from 3 pounds of pods, about 3 ½ cups of beans]
1 medium cucumber, quartered lengthwise and thinly sliced
2 tablespoons chopped fresh flat-leaf parsley
2 cup fresh corn kernels [from 2 ears of corn]
½ red onion, thinly sliced [about ½ cup]
2 ounces feta cheese, crumbled
Preparation:
Make the vinaigrette: Preheat oven to 350 degrees. Drizzle garlic with 1 teaspoon oil. Wrap in parchment, then in foil. Bake until soft, about 30 minutes. Squeeze garlic from skins. Mash until smooth.
Whisk together the remaining ingredients with 1 tablespoon of the roasted garlic and remaining 2 teaspoons oil.
Make the salad: Prepare an ice-water bath. Cook beans in a large pot of boiling water for 2 minutes. Using a slotted spoon, transfer beans to ice-water bath. Let cool completely and remove with the slotted spoon. Cook corn in same pot for 1 minute and drain in a colander. Peel thin shells off beans.
Toss cucumber, onion, parsley, feta, beans, and corn with the vinaigrette.
---
Source: marthastewart.com
Photo Information: Canon T2i, EFS 60mm Macro Lens, F/4 for 1/50th second at ISO‑500