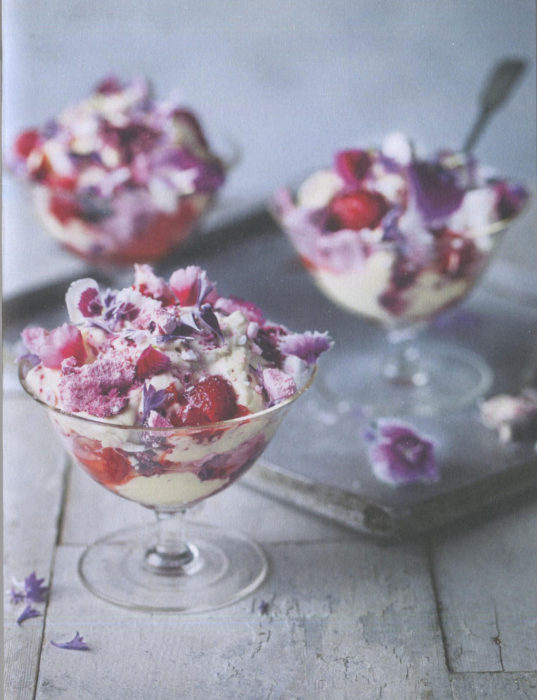 If I say "Mojito" you know the drill. Mint leaves muddled with simple syrup and lemon juice. Add rum, shake with ice, and savor.
Now, let's do some substitutions: basil for the mint, gin for the rum. Everything else stays the same in terms of the drink mechanics. But the flavor is surely not the same. This is a wonderfully floral drink, distinct yet subtle. It's easily made and, in our case, a delight. Our herb garden has never been greener or higher. Here's our basil, carefully protected with netting from all the adoring deer. Deer like basil and don't need gin to enjoy it.
This drink will become a staple for you. Even if you, too, have deer.
This may be an English recipe but the measurements here are metric. Get a scale and have a conversion app on your iPhone!
---
Floral Mess
Yield: serves 4-6
Ingredients:
3 large free-range egg whites
175g caster sugar
2 teaspoons hibiscus powder (use more for a brighter color)
500ml double cream
2 tablespoons icing sugar
500g fresh berries (such as raspberries, strawberries, blueberries or mulberries)
2 handfuls of fresh edible flowers
Preparation:
Preheat the oven to 130°C/gas 1. Line a baking tray with baking paper and set aside.
Whisk the egg whites in a clean, dry stainless steel bowl until soft peaks form. You can do this with a stand mixer, if you prefer. Add the caster sugar, a spoonful at a time, and keep whisking until dissolved. Gently fold through half the hibiscus powder.
Spoon the meringue into four large mounds on the lined baking and bake on the middle shelf of the oven for 1 hour. Turn off the oven and leave the meringues in there until completely cold.
In a mixing bowl, whip the cream with the icing sugar and the remaining hibiscus powder until thick. Gently fold in the berries. Smash up the meringues and place them in serving bowls, then spoon over the berry cream, dividing it evenly. Decorate with the edible flowers and serve.
---
Source: The Art of Edible Flowers by Rebecca Sullivan [Kyle 2018]