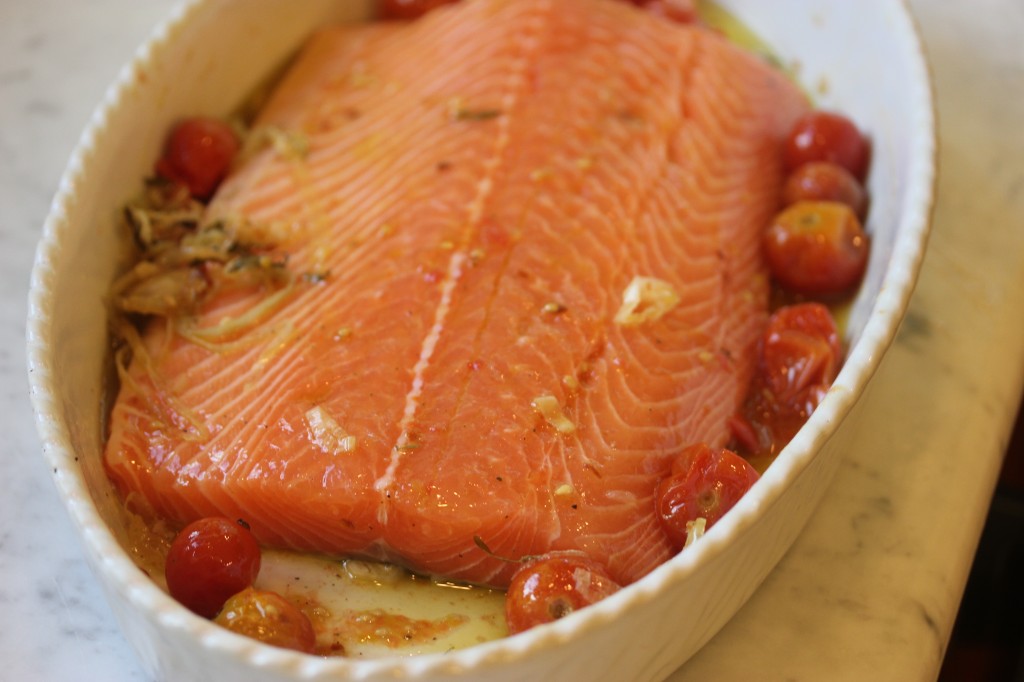 A few weeks ago we published a post for semi-confit tomatoes, a recipe that is repeated below. Once those tomatoes are done, don't wash the pan. You have gold there. Olive oil scented with tomatoes, thyme, bay, and garlic. You could, of course, add some onion, too.
Take that pan, put in a hunk of salmon — the ideal fish but by no means the only one you might use. Bake at high heat, say 400 degrees, for about 10 minutes. The time will depend on how well done you want the fish and, of course, the thickness. For dinner, you now have the fish and the tomatoes.
Only the white wine remains.
Semi-Confit Tomatoes
Yield: about 1 ½ pounds
Ingredients:
4 cups light olive oil
2 ¼ pounds ripe cherry or medium tomatoes
2 thyme sprigs
1 bay leaf
2 garlic cloves, halved
1 tablespoon white peppercorns, coarsely crushed
Preparation:
Heat the olive oil in a pan and add the whole, unpeeled tomatoes, thyme, bay leaf, garlic, and crushed pepper.Cook gently at about 160⁰F for 5 to 10 minutes. The riper and the smaller the tomatoes, the less time they will take to confit.Let them cool in the pan, then transfer them to a jar or bowl and pour over the oil. Cover with plastic wrap and refrigerate until ready to use. The semi-confit tomatoes will keep well in their oil for at least 2 weeks in an airtight container in the refrigerator. Just season them with salt and pepper before using.
Source: Pastry by Michel Roux
.