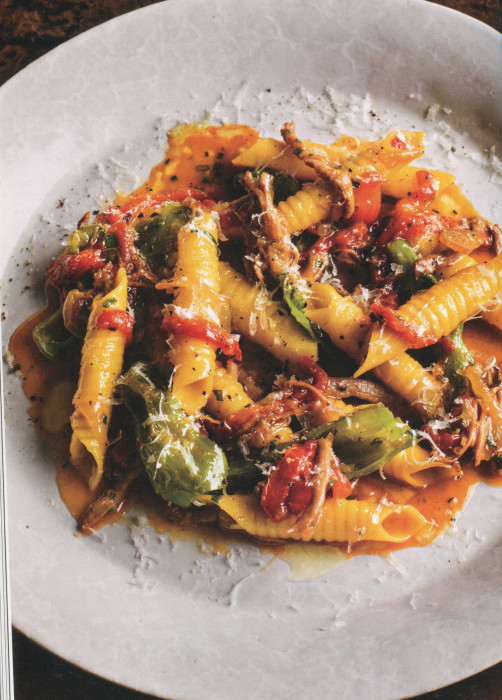 The charming Brooklyn restaurant Battersby has a cookbook called, not surprising, Battersby. The restaurant is small, so small that most of the dishes are prepared in terms of components hours or even days in advance, then refreshed and assembled just before serving.
This pasta dish caught my eye. How could it not? Suzi and I are debating what to do for Christmas dinner. And New Year's. We've had our turkey and we would love to try something wonderful with that certain elegance you want on a holiday night. Although this dish is suggested as starter course, I think it's the perfect main event. Offered with a salad and serious bottle of red, and you have either a strong holiday contender or a damn good dish of comfort food. Shouldn't Christmas be comfortable?
Here's my review of Battersby!.
---
Garganelli with Chicken Sugo and Peppers

Yield: serves 6 as a starter or pasta course

Ingredients:

To Prep:

4 chicken thighs or legs, or a combination
Kosher salt and freshly ground black pepper
¼ cup extra-virgin olive oil
1 small onion, coarsely chopped
½ fennel bulb, coarsely chopped
1 head of garlic, halved
5thin strips lemon peel, removed with a vegetable peeler, no pith attached
1 green bell pepper, seeded and coarsely chopped
1 bay leaf, preferably fresh
1 fresh thyme sprig
1 fresh plum tomato, chopped
1 cup dry white wine
4cups chicken stock, preferably homemade (page 317)
To Serve:

1 pound garganelli, fresh (page 166) or dried I (rigatoni or penne may be substituted)
4 tablespoons extra-virgin olive oil
20 Shishido peppers (available from specialty and Asian markets, or Padron peppers, stemmed
Freshly ground black pepper
1 garlic clove, thinly sliced
1 Calabrian chili, minced
2tablespoons unsalted butter
1 Small piece of Parmigiano- Reggiano cheese, for grating
½ lemon or a dash of sherry vinegar
Preparation:

In Advance:

Preheat the oven to 325°F.
Season the chicken thighs with salt and black pepper. Heat the olive oil in a Dutch oven or other pot over medium-high heat until shimmering. Add the chicken pieces and brown all over, about 8 minutes. Use tongs or a slotted spoon to transfer the chicken to a large plate and set aside.
Pour off all but 2 tablespoons of the fat from the Dutch oven. Add the onion, fennel, garlic, lemon peel, and bell pepper and cook, stirring occasionally, until softened but not browned, about 4 minutes. Stir in the bay leaf and thyme and cook until fragrant, about 1 minute. Stir in the tomato and cook, stirring occasionally, until the liquid begins to evaporate, about 3 minutes. Pour in the wine, bring to a simmer, and cook until reduced by half, about 6 minutes. Pour in the stock and bring to a simmer.
Return the chicken pieces to the Dutch oven, submerging them. Cover with a lid, transfer to the oven, and braise until the chicken is cooked through and falling off the bone, 90 minutes to 2 hours. During this time, periodically check to be sure the liquid is just barely simmering; if it is bubbling aggressively, reduce the oven temperature by 25°F; if not bubbling at all, raise it by 25°F.
When the chicken is cooked, remove the Dutch oven from the oven. Remove the lid and let the chicken cool in the braising liquid for 1 hour. Use tongs or a slotted spoon to remove the chicken from the pot and set aside on a clean, dry surface to cool. Strain the braising liquid through a fine-mesh strainer into a medium pot.
Set the pot over high heat, bring to a boil, and cook until reduced to about 2 cups, about 10 minutes.
Meanwhile, when the meat is cool enough to handle, pick it from the bones. Discard the bones. When the sauce has been reduced, put the chicken meat in the sauce. Use right away or refrigerate the meat in the sauce in an airtight container for up to 2 days.
To Serve:

If the chicken and sauce have been refrigerated, let them come to room temperature.
Bring a large pot of salted water to a boil over high heat. Cook the garganelli until al dente, about 3 minutes for fresh, 9 to 10 for dried.
Meanwhile, heat 2 tablespoons of the olive oil in a sauté pan over high heat. Add the peppers and cook, tossing, until blistered all over, 2 to 3 minutes. Season with salt and black pepper. Stir in the garlic and chili and cook until softened but not browned, about 2 minutes. Stir in the chicken and sauce and bring to a simmer.
Drain the pasta and add it to the pan. Toss and cook briefly to coat the pasta with the sauce. Add the butter and the remaining 2 tablespoons oil, and grate about 2 tablespoons of the cheese over the pasta. Toss well until the butter has melted.
Divide the pasta among six plates. Finish with a squeeze of lemon juice and serve.
---
Source: Battersby by Joseph Ogrodnek and Walker Stern [Grand Central Life & Style, 2015]