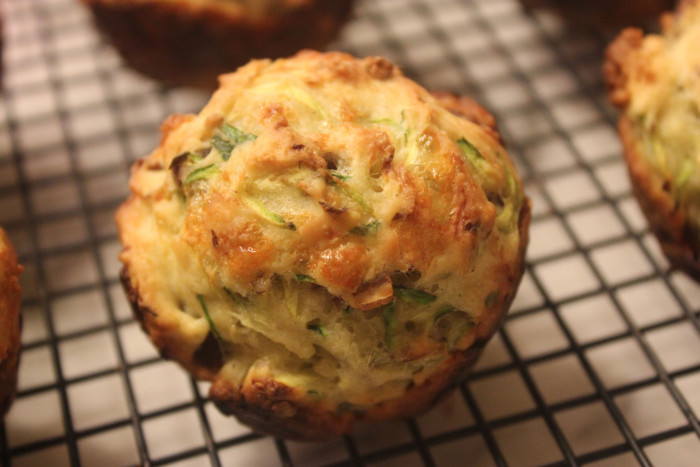 Muffins. Does anybody not like muffins?
How about a savory muffin? Yes, something you do not goop up with strawberry jam. You can still use butter or cream cheese on these but, frankly, jam would be a distraction when you already garlic, yogurt, zucchini, pistachio and Cheddar cheese.
These muffins, from the new Garlic by Jenny Linford, are the perfect side dish for chicken or fish. Or, for brunch just pair these complex and richly flavor muffins with salad. And some white wine.
This combination of ingredients is quite something. Suzi is putting this on the menu at Cooking by the Book where teams come into our kitchen and cook a meal together. This is the perfect team recipe where different people can be cooking garlic, grating zucchini, and also grating that cheddar cheese. Lots of manual effort, but don't these look worthwhile?
We made these yesterday with zucchini fresh from the farmers market. Perfectly wonderful. That is our photo at the top and the book's photo at the bottom.


---
Green Garlic Muffins

Yield: one dozen

Ingredients:

1 teaspoon olive oil
2 garlic cloves, chopped
1 ¾ cups self-rising/self-rising flour
1 teaspoon baking powder
1 teaspoon salt
1 egg
4 tablespoons natural yogurt
⅓to ½ cup whole milk
1 ¾ cups grated zucchini
½ cup chopped pistachio nuts
½ cup grated Cheddar cheese
Preparation:

Heat the oil in a small frying pan/skillet and gently fry the garlic until golden, stirring and taking care not to burn it. Set aside to cool.
Preheat the oven to 400°F.
Sift the flour, baking powder and salt into a mixing bowl. In a separate bowl, whisk together the egg, yogurt and ⅓ cup milk. Pour the egg mixture over the sifted ingredients and stir together, taking care not to over-mix. If the mixture appears very dry, then add the extra milk. Fold in the fried garlic, grated zucchini, chopped pistachios and grated Cheddar.
Divide the mixture among the muffin cases. Bake in the preheated oven for 20 minutes until risen and golden brown. Serve warm from the oven or allow to cool.
---
Source: Garlic by Jenny Linford [Ryland Peters & Small, 2016]

Photo Information: Canon T2i, EFS 60mm Macro Lens, F/5 for 1/60th second at ISO‑2500