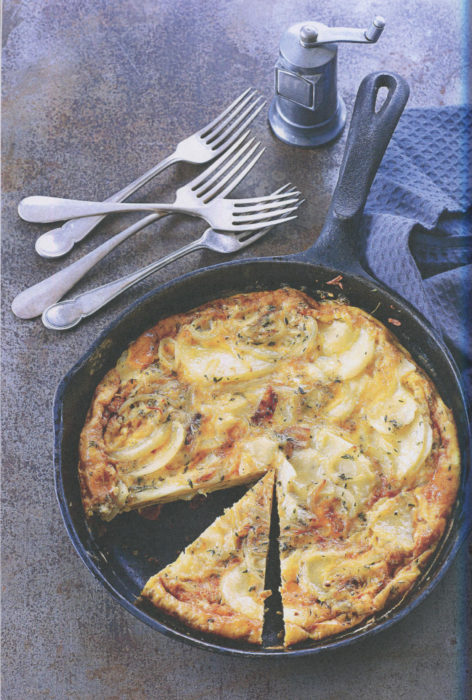 Frittatas are Italian omelets often filled with unexpected flavors and textures. Peppers and sausages perhaps. Oh, and potatoes.
The combination of garlic and potato makes this herby frittata a wonderful dish for a weekend brunch. Pair this with a salad and glass of very cold white.
And, if you want, you can add some additional flavors here: those peppers or the sausages you do crave.
---
Garlic, Onion, and Thyme Frittata
Yield: serves 4 as a main, 6 as an antipasto
Ingredients:
2 large potatoes, peeled and sliced to ½ inch thick
2 tablespoons olive oil
2 tablespoons butter
4 small onions, or 2 large, thinly sliced
A large handful of fresh thyme sprigs, leaves only, plus extra sprigs to garnish
3 garlic cloves
6 eggs
Salt and freshly ground black pepper
Preparation:
Bring a pan of salted water to a boil and blanch the sliced potatoes for 3 minutes. Take care not to overcook them or they will fall apart in the frying pan. Drain in a colander to allow the steam to escape and set aside.
Heat the oil and butter in a non-stick frying pan and the add the onions and fry over low heat for 5 minutes, stirring occasionally. Add the thyme leaves, crush in the garlic with a pinch of salt and cook for another 2 minutes.
Add the potatoes to the pan, carefully turning them to coat in the oil and butter. Add more oil if necessary. Cook for another 5 minutes on medium heat.
Meanwhile, beat the eggs with a good pinch of salt and some freshly ground black pepper then pour the egg mixture into the pan.
Cook on low heat until the frittata starts to come away from the sides of the pan, then place the pan under the grill until the top of the frittata has browned slightly. The perfect frittata should be golden brown on the outside and slightly soft inside.
Serve the frittata directly from the pan or, if you're feeling confident, slide it out of the pan onto a plate and garnish with a couple of thyme sprigs.
---
Source: The Goodness of Garlic by Natasha Edwards [Kyle, 2016]