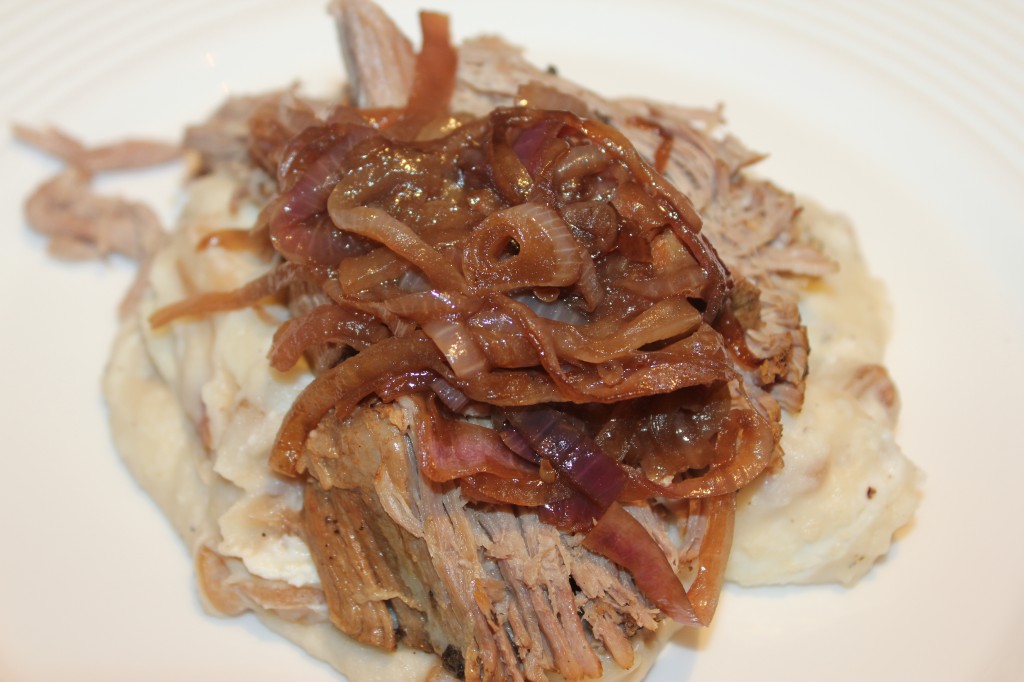 Mashed potatoes are a staple for many of us. Topped with butter and gravy, it's a key comfort food. Mashed potatoes are almost never boring. But, … Well, sometimes you do want those mashed wonders but you want them different.
This recipe is defines that different and delicious. With one cup of goat cheese added, no butter is needed at all. The combination of caramelized onions with that goat cheese is wonderful when imbedded inside the mashed potatoes. This is an excellent side dish for a steak or pork roast for an early Sunday dinner.
How to caramelize those onions? There are many techniques. Look for one here tomorrow that is richly satisfying.
In the picture above, we've got these mashed potatoes topped with more caramelized onions and some pulled pork. It's a one plate feast.
Goat Cheese and Caramelized Onion Mashed Potatoes
Yield: 6 servings
Ingredients:
2 pounds russet potatoes, peeled and cut into 1 ½-inch pieces
6 cloves garlic, peeled
½ cup unsalted butter
¾ cup heavy cream
Kosher salt and freshly ground pepper
1 cup goat cheese
½ cup caramelized onions
Preparation:
Place the potatoes and garlic cloves in a large, heavy saucepan and cover with cold water. Over high heat, bring the water to a boil. Lower the heat to medium, cover the pot, and cook the potatoes until they are just soft when tested with the tip of a knife, about 20 minutes.
While the potatoes are cooking, heat the butter and cream over medium heat in another saucepan. Reduce by one-fourth.
In a colander, strain the water from the potatoes and garlic. While still hot, pass them through a food mill or a ricer with the butter and cream. Add salt and pepper, fold in the goat cheese and onions, and serve warm.
Source: Texas Cowboy Kitchen by Grady Spears with June Naylor