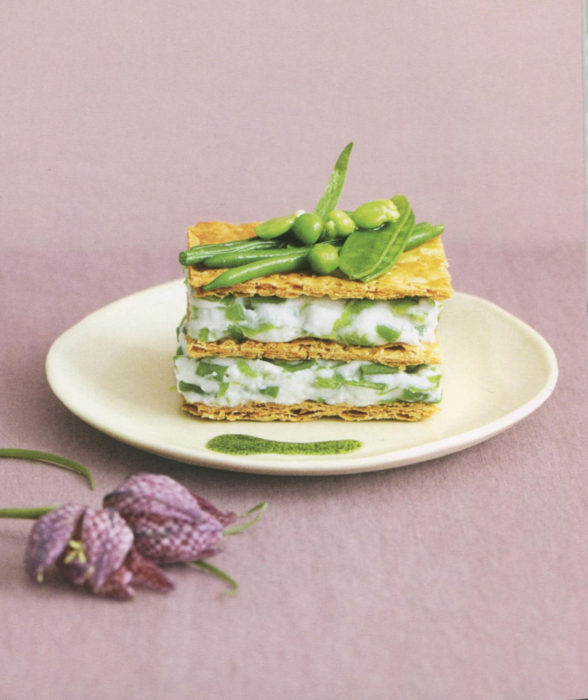 You may have heard of Ladurée, the French patisserie shop that defined modern macaroons. If you visit Paris, you are never far from a storefront cascading with macaroons in rainbow of seasonal colors. They actually have other food, too. Like Napoleons. Even savory Napoleons!
This recipe is a splendid idea. We are finally, really experience spring and fresh green vegetables are now ready to enjoy. Here it is zucchini and green beans and snow peas. But you can play with this recipe: another variety of peas, asparagus, perhaps some shredded lettuce. The idea here is to use puff pastry to bracket slab of goat cheese adorned with "something green." Have a field day — no agricultural pun intended.
If goat cheese is not your favorite, experiment with another soft cheese. There is infinite potential here.
Disclaimer: I have been in Ladurées in Paris and New York. Never had savory. Just macaroons and the "other" Napoleons!
---
Goat Cheese and Green Vegetable Napoleon
Yield: serves 6
Ingredients:
1 x 1 pound 2 ounce packet puff pastry
1 ¾ ounces zucchini
2 ¼ ounces green beans
2 ¼ ounces snow peas
1 ½ ounces small green peas
2 ½ ounces fresh soft (frontage frais) goat cheese
Scant ¾ teaspoon powdered or 1 sheet gelatine
Salt and ground white pepper
2 tablespoons sliced flat leaf Italian parsley leaves
3 tablespoons sliced chives
3 tablespoons extra virgin olive oil
Oil for frying
Equipment:
1 piping bag fitted with a ½ inch plain tip
Preparation:
Preheat the oven to 375°F. Unroll the puff pastry on a baking sheet. Prick the pastry with the tines of a fork and cover it with another baking sheet [using two sheets here keeps the puff pastry flatter and more appropriate for this dish]. This will prevent the pastry from rising too much while baking. Transfer to the oven and bake for 10 minutes. Reduce the oven temperature to 285°F. Leave the pastry in the oven for an additional 30 minutes to dry.
Cut the cooked puff pastry into 18 rectangles measuring 1 ½ by 3 ½ inches and then set aside.
Finely dice the zucchini, top and tail the green beans and snow peas; shell the peas. Prepare a bowl of ice-water. Cook separately in boiling salted water: zucchini, 3 minutes; green beans, 5 minutes; snow peas, 5 minutes; and peas, 3 minutes. (The vegetables should remain crunchy.) Drain, refresh immediately in ice-water to stop the cooking and drain again. Set some green beans and snow peas aside for decoration; finely slice the remainder.
Soften the sheet gelatine in a bowl of cold water, then squeeze to remove excess water. (If using powdered gelatine, soften in a tablespoon of cold water for 5 minutes.) Heat half the goat cheese in a small saucepan, add the gelatine and stir until completely dissolved. Then, add the remaining cheese, season to taste with salt and pepper. Set aside to cool.
Whisk the cheese mixture vigorously. Fold in the sliced green beans and snow peas, diced zucchini and peas; season to taste with salt and pepper. Fill the piping bag with the mixture and refrigerate.
Fill a frying pan no more than one-third full with oil and heat to 300 F. Deep fry the sliced herbs until golden; cool. Put the herbs into a food processor and add the olive oil gradually; season to taste with salt. Strain the herb oil using a fine mesh wire strainer; set aside.
Pipe an even layer of the cheese mixture onto 12 puff pastry rectangles. Then stack two-by-two and top with the remaining rectangles. Place one napoleon on each plate and decorate with the reserved, green beans, snow peas and herb sprigs. Spoon a ribbon of herb oil onto the plates.
---
Source: Savory, The Recipes from Ladurée [Chêne, 2011]