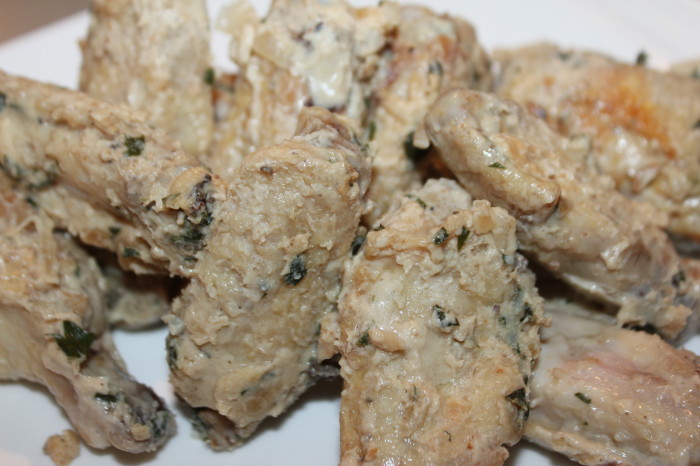 Two hours. Four. Overnight.
When you have some wings, and you want to eat them NOW, it's not nice to keep finding recipes that call for hours of marinating before you can cook. This recipe, from Wings Across America, is that NOW recipe you need. It's cheesy, in a good sense, and not hot. But of course you could add some hot sauce in the end here to bring up the fire in your mouth.
However, I suggest you try this recipe just as it is. The wings, as the picture shows, are coated in a warm brown coating that wafts the Gorgonzola flavor. The picture seems a tad strange to you? Good eye. These are the next day leftovers, fresh out of the fridge. Heat them up and "sauce shall rise again."
And there are times, when a NOW recipe comes to play.
"What's for dinner?" Suzen asked me. She walked in the door at 8PM after being gone for 11 hours at one of these all-girls-only-girls family events.
"You hungry?" I asked.
"YES." Her reply was definitive.
"Well, it's ready for you to cook," I responded.
"WHAT?" I don't know what it was. But she seemed a tad angry. Thing is, she loves wings and she adores cheese. She tolerates me. I showed her the recipe.
"Oh, I can do that. This looks good."
I had not cooked in advance, but all the ingredients were sitting there ready to go. In twenty minutes she was no longer hungry and she seemed happy. I think I was more than tolerated.
Gorgonzola Wings
Yield: 20 wings
Ingredients:
3 tablespoons vegetable oil
20 trimmed and separated wings
Pinch salt and pepper
 ¼ cup minced red onion
1 tablespoon minced parsley
¼ cup chicken stock
¼ cup heavy cream
½ cup Gorgonzola cheese
Preparation:
In a large, heavy skillet, heat the oil over a high flame. Add the wings, sprinkling with salt and pepper to seal in their flavor while you brown them. Fry for 10 to 12 minutes, or until brown and cooked through. Removed the wings from the pan, reserving the cooking oil. Keep the wings warm.
In the same skillet and over high heat, add the red onion and sauté until transparent and tender. Add the chicken stock, parsley and heavy cream. Bring to a boil, then immediately reduce the heat and simmer for about 3 minutes or until the sauce thickens slightly.
Fold in the Gorgonzola cheese and stir until it is incorporated.
Transfer the warm wings to a large mixing bowl. Add the sauce and toss, making sure the wings, making sure the wings are thoroughly coated. Transfer to a platter and serve..
Source: Wings Across America by Armand C. Vanderstigchel
Photo Information: Canon T2i, EFS 18-55MM macro lens, F/5.0 for 1/64th second at ISO 400