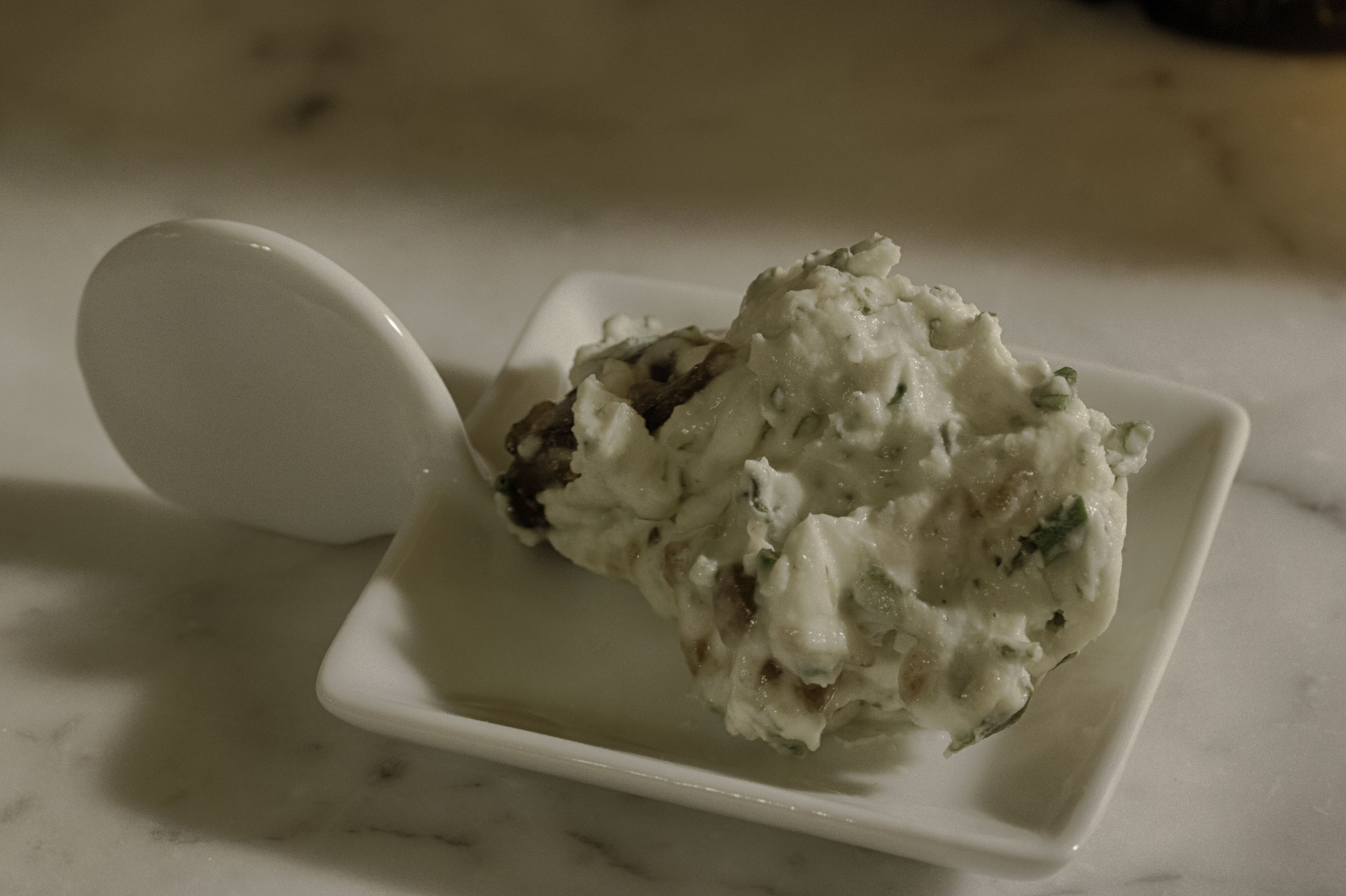 I was at my discount liquor store looking, of course, at the cheese section. Great wine at cheap prices. Great cheese at …
Here's the truth. This store offers La Roulade at under $3. If you don't know this cheese, it's new on the market — at least to my eye — and is targeted as a cheaper version of Boursin. Suzen and I have tried it and found it to be basic and bland. There's that peculiar aftertaste, no after feel, where your throat senses dryness. It was not something we would serve to guests.
Tonight, I bought my wine and bought a container of La Roulade. I resolved to find a way to make it taste great, really great with no after feel that I did not like. I had immediate success. My ideas here are far from adamant and you can surely experiment yourself and find other combinations that let you transform a basic, economical cheese into something you'll proudly present to friend or family. Other jams, other herbs, other proportions are all yours to explore.
My "gourmeted" cheese was not dry to the palate. There was no after feel or after taste. There was good balance between the inherent cheese flavor and the garlic notes from the raw garlic and roasted garlic jam.
Ah, before you begin with your cheese. Let me say a word about the photo at the top and the kind folks at Nik Software. I've mentioned before that I now use their HDR [High Dynamic Range] photographic software to combine multiple shots to get one great shot. That shot at the top is combination of three I took with my Cannon: a basic shot and then one underexposed and one overexposed. That single "basic" Cannot shot is right at the end of this blog and what I would have presented before I discovered the tools from Nik. If you are into food photography you should visit Nik Software on the web and see their excellent portfolio of tools. I'll be experimenting with all of them. I'm sure that you'll find them as important for you as that macro lens you have been eyeing.
Gourmeting Your Own Cheese
Yield: 3 ounces
Ingredients:
1 packet of La Roulade, about 2.5 ounces
2 tablespoons of diced chives
2 garlic cloves
Pinch of salt
2 tablespoon roasted garlic onion jam [Stonewall Kitchen is my brand of choice]
Preparation:
Unwrap the cheese and put it into a medium size glass. Bowl, using a fork, gently break up the cheese and distribute the herb filling that is "rolled" in the cheese.
Dice the chives and add to the cheese. Mince the two garlic cloves. Sprinkle with salt, and using your knife's flat side, crush the garlic. Scrape and add to the cheese.
Add two tablespoons of the jam to the cheese. Here, many jams will work but Suzen and I love the Stonewall Kitchen products, the cause, and the quality. You could certainly substitute other items here, such as pepper jelly. Just remember: the cheese itself is inherently bland and you do not want to overpower it.
Mix the ingredients well. Refrigerate and save until ready to serve.
Recipe Source: Brian O'Rourke
Photographic Software from Nik Software
Here's the "original" picture.  If you look at compare, you'll see that the colors are truer, details lost below in the highlight or shadows are recovered in the picture above. This picture is just okay, but the HDR photo is distinctively better. In particular, compare the "all white" areas in the photo below — where the camera sensor is blown out — with the photo above where the detail has been recovered using that underexposed photo I took as well. Oh, yes, I had a tripod for these shots. Doing this hand held is quite impossible.
And, all I did was use the Nik software from inside Lightroom. I selected the three images I had taken with my Cannon and pressed a button. That's it. I did NOT have to go into Photoshop to try to cover light balance or or exposure or attempt to recover detail on a spot basis. As I've said, this HDR approach produces a better picture with really no extra work. It's a wiz.