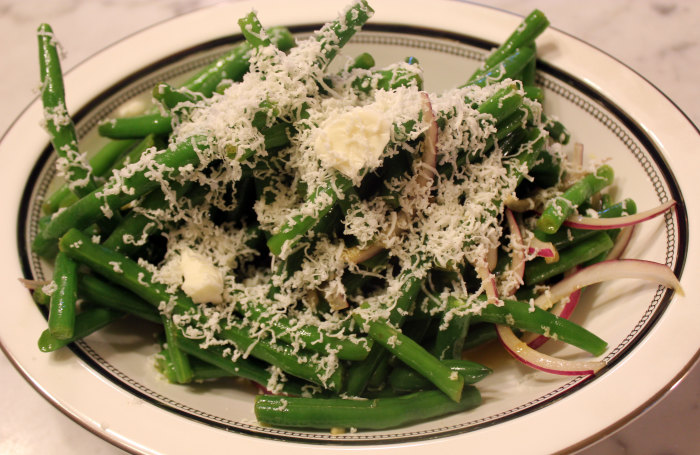 Oh, God help me. We are in the market and Suzen is in the produce section and she has her hands in the green beans. Please, help me.
"Uh, we're gonna have …" I begin to plead.
"Yes, we are," she begins. "These are very healthy."
"We just had healthy," I tried a new strategy.
"Yes, and you're getting more, But," she turned to look at me, "this time is will be different."
I did not believe her. How different can green beans be?
So, it turns out, there is a God and she inspired the creation of My Rio de Janeiro: A Cookbook. Author Leticia Moreinos Schwartz lives in Connecticut but writes fondly of her native Rio. This recipe does, truly, relieve the "too much green beans" syndrome. The recipe calls for Minas cheese, a white semi-soft cow's milk cheese common in Brazil. If you need a substitute, you can use queso fresco or, if you don't even have a Mexican market nearby, fromage blanc. We did not have Brazil nuts, to be truthful, but we found that pecans were quite a tasty substitute.
There's enough extra flavor here — cheese, nuts, lime juice, onion and even soy sauce — to erase any sense of green bean blandness. This is a great recipe template, one you can modify yourself to offer up your own personalized and not-bland combination.
Next time Suzen is reaching for green beans, I will not have to pray. I really don't want to bother God. I really don't.
For holiday meals, green beans are often the "safe" choice for a veggie side dish. I suggest you give this one a try. It has enough boldness for a holiday table laden with turkey, stuffing and gravy. In fact, this might be the healthiest thing on your table.
---
Green Beans with Minas Cheese and Brazil Nuts

Yield: serves 4

Ingredients:

1 ½ pounds string beans, ends trimmed
Kosher salt and freshly ground black pepper
2 tablespoons fresh lime juice
1 teaspoon soy sauce
1 garlic dove, minced
½ cup extra virgin olive oil
½ cup crumbled Minas cheese
¼ cup thinly sliced red onion
⅓ cup Brazil nuts
Preparation:

Fill a large bowl with ice and water. Place the green beans in a steamer or a pot fitted with a steaming basket over boiling water. Season with salt, cover the steamer, and steam until just tender, about 5 minutes. Transfer the beans to the ice water bath for 5 minutes to cool. Remove the green beans from the water using a slotted spoon and spread them on a plate covered with paper towels to absorb any extra water. Let air dry for 5 minutes, then place them in a serving bowl.
In a medium bowl, whisk together the lime juice, soy sauce, garlic, and salt and pepper to taste. While whisking, slowly add the olive oil until well blended.
Pour enough dressing over to coat lightly (reserve the rest for another use). Add the cheese and red onion and grate the Brazil nuts over the green beans with a Microplane grater. Taste, adjust the seasonings, and serve.
Source: My Rio de Janeiro, A Cookbook, by Leticia Moreinos Schwartz

Photo Information: Canon T2i, EFS 60mm Macro Lens, F/4 for1/50th second at ISO‑640