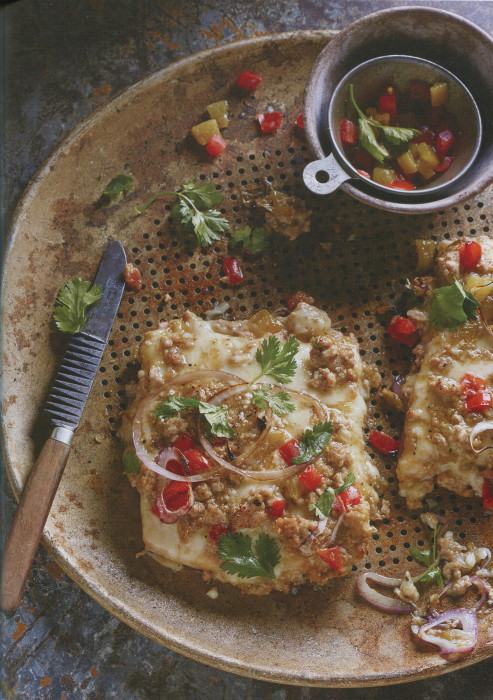 In The United States of Pizza, Craig Priebe and Diane Jacob show the results of their personal pizza odyssey. They've found gems from every corner of the country, big towns and small villages.
Now, if you are a pizza purist, you may find some of the ideas in the book a tad extreme. I appreciate true, Italian-pure pizza. I do, but here's an idea that appeals to the Tex-Mex that is now in all of us.
Here's Green Chili Pork Pizza from Beau Jo's in Denver, Colorado. It is beautiful to behold and fiery with both green chiles and tomatillo salsa atop the crust. Feel free, of course, to increase the heat or change the perspective with, perhaps, a round of jalapeno slices.
---
Green Chile Pork Pizza

Yield: 1 12-inch pizza for 2-3 people

Ingredients:

1 prebaked pizza crust of your choice [prebaked just the beginning point of doneness]
1 pound ground pork
1 clove garlic, chopped
1 (8 ounce) can tomatillo (green) salsa
1 (4.5-ounce) can green chiles
1 tablespoon cornstarch
1 Roma tomato
Nonstick cooking spray
2 cups shredded mozzarella
¼ cup thinly sliced red onion
(8 ounce) can
1l4 cup chopped fresh cilantro (from about 1/4 bunch)
Preparation:

Move an oven rack to the lowest position. Preheat the oven to 400°F for 30 minutes.
Brown the pork over medium-high heat in a medium skillet, about 5 minutes. Add the chopped garlic, salsa, half the can of green chiles, 2 tablespoons water, and the cornstarch. Reduce the heat to low and cook for about 10 minutes, until the sauce is thick.
Mix the chopped tomatoes and the remaining green chiles together in a small bowl.
Place the prebaked pizza crust on a pizza pan or screen sprayed with nonstick cooking spray. Sprinkle with the mozzarella. Spread the green chile pork all the way out to the edges with a rubber spatula. Top with the tomato-green chile and the raw onion.
Bake the pizza for about 30 minutes, until the crust is brown and the toppings are bubbling. Check underneath with a metal spatula to ensure the bottom crust is golden. Let the pizza rest for 5 minutes. Transfer to a cutting board, sprinkle with the chopped cilantro, cut into 8 wedges, and serve.
---
Source: The United States of Pizza by Craig Priebe with Diane Jacob [Rizzoli, 2015]