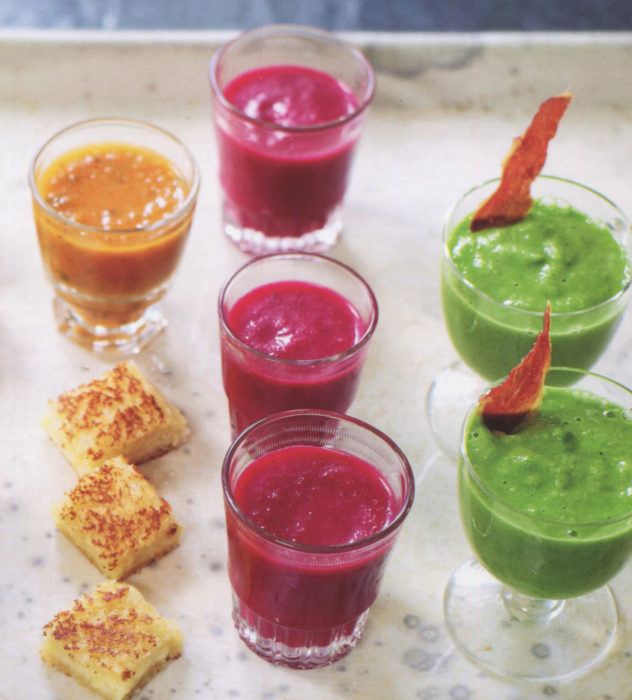 In her new and delightful The Art of the Party Kay Plunkett-Hogge's expertise is on full display. Drinks and noshes of all shapes and size and flavors roll off the pages of this tidy and most helpful book. Here's one idea: serve little shots of soup. Kay offers a trio of soups to give your guests soup options, shown in the picture above: Roasted Beet and Apple Soup with Horseradish, Tomato and Basil Soup with Grilled Cheese Sandwiches, and this one Green Gazpacho with Serrano Ham Crisps. The green comes from cucumber, green pepper, green onion, spinach, peas, mint, and basil. Truly, truly a green dish with an exceptional flavor spectrum. A wonderful appetizer to start your party. Or just your own dinner.
You might want to get The Art of the Party for yourself. To convince yourself, try this gazpacho, savor the green, and party on.
---
Green Gazpacho with Serrano Ham Crisps
Yield: 24-28 shots
Ingredients:
11ounce cucumber, peeled and roughly chopped
1 green pepper, cored, deseeded and roughly chopped
2 garlic cloves, chopped
4 spring onions, roughly chopped
3 ½ ounces baby spinach
4 ½ ounces frozen peas
Handful of mint leaves
Handful of basil leaves
1 ounce of blanched almonds
2 slices of white bread, toasted and roughly torn
Juice of ½ lemon
1 tablespoon sherry vinegar
Sea salt flakes and freshly ground black pepper
4-6 slices of Serrano ham, fried until crisp, to garnish
Preparation:
Pop 5-6 ice cubes into a blender or food processor and blend to crush them, then add the remaining ingredients, in batches if necessary, and blend until smooth. Season with salt and pepper. Make sure the soup isn't too thick – you want guests to be able to sip it easily — so add a dash of cold water to loosen, if necessary.
Break each of the ham slices into 4-6 pieces. Pour the soup into shot glasses and garnish each with a shard of crisp Serrano ham.
---
Source: The Art of the Party by Kay Plunkett-Hogge [Michell Beazley, 2018]