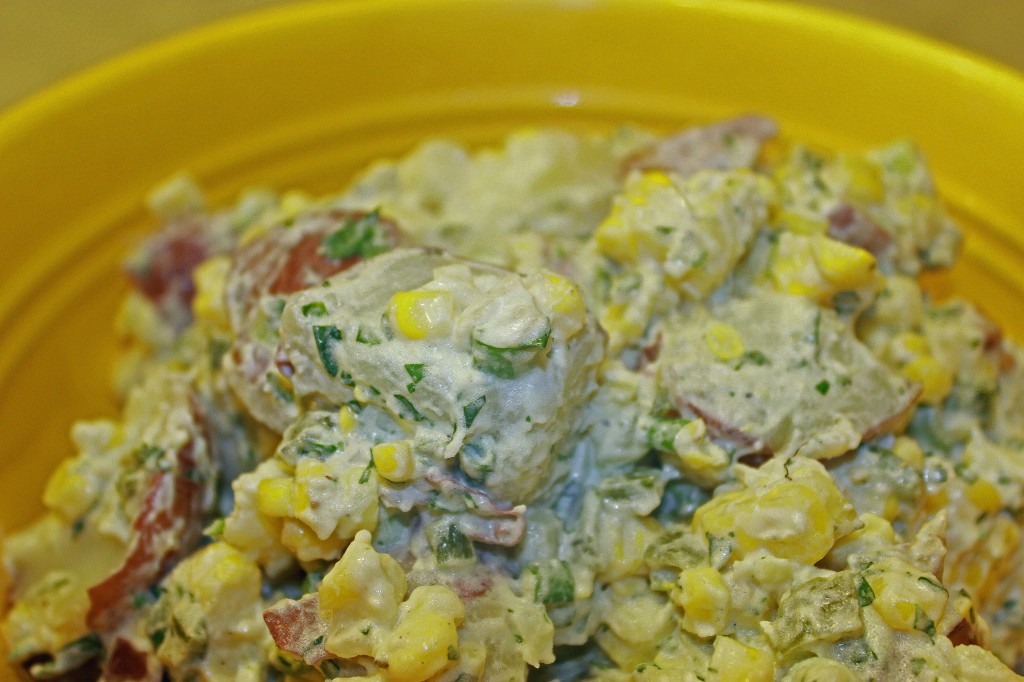 I love potato salad. The eggs, the pickles, a little celery, the parsley on top, …
And what if you took all of that away? All of those classical components? Now what?
From Fresh Mexico comes this potato salad adding the sweetness of corn and the fire of roasted poblano chiles.
Suzen's verdict? "This is now my standard potato salad." She loves it. I watched her take a second helping, then a third.
"This is really good," her cousin Karen said. Karen had joined us for dinner and she too was scooping away at the yellow bowl holding salad.
I sighed a little. I had hopes of lots and lots of leftover. Not this time. I was able to save only one cup for that important activity: what does it tasked like on the second day.
I found this to be two different salads. On day one, it's a little mild. On day two, after those poblanos have been sitting around for 24+ hours, oh, Lord, there is fire aplenty here.
This salad is delicious and a wonderfully different take on a classic dish. This combination of flavors is a cure for any "oh, it's just potato salad" boredom.
I think of this recipe as a template. There is room here to do many things:
Increase the poblanos to spur your beer intake
Put those pickles back in for a contrasting sour flavor
Add a splash of vinegar, again to provide contrast
Increase the sour cream and mayonnaise for a goopier salad
You can play with this salad all summer long. It is sure to become a standard for your table.
Grilled Corn and Poblano Potato Salad
Yield: serves 6-8
Ingredients:
2 pounds medium red-skinned potatoes
3 ears fresh corn, husks removed
2 poblano chiles, charred, peeled, stemmed, seeded, and chopped
1 cup chopped  scallions (white and pale green parts only0
½ cup sour cream
¼ cup mayonnaise
¼ cup chopped fresh cilantro
Salt and freshly ground black better
Preparation:
Put the potatoes in a large pot and add salted water to cover. Bring to a boil and cook for 30 minutes, or until tender when pierced with a knife. Drain the potatoes and let them cool slightly.
Meanwhile, prepare a grill or rill pan to medium-high heat. Add the corn and grill, turning the ears, until evenly browned on all sides, about 10 minutes
Halve the potatoes and put them in a large bowl. Using a sharp knife, carefully cut the kernels off the corncobs and add the kernels to the bowl. Add the poblano chilies, scallions, sour cream, mayonnaise, and cilantro, and fold together.
Season to taste with salt and pepper.
This salad can be made 1 day ahead and refrigerated. Let it stand at room temperature for 30 minutes before serving.
Source: Fresh Mexico by Marcela Valladolid