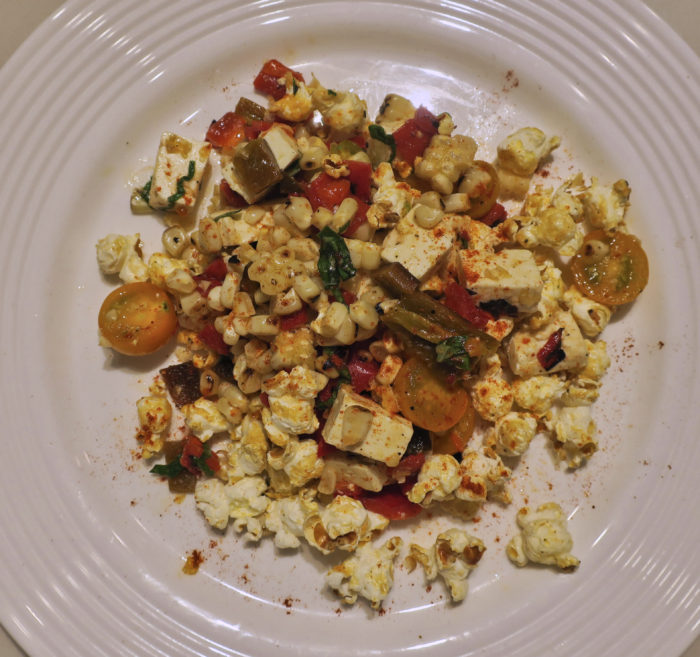 In Root & Leaf, author Rich Harris explores vegetarian ideas that even he, a total meat eater, will find totally satisfying. Ideas that just happen to not have protein in them. I love this book and here is the first recipe Suzi and I tried.
Why this one? Well, it uses corn and right now is peak corn season here in the Northeast. And, it uses popcorn. Yes, this salad has popcorn. How can you not try it?
I'm posting the recipe as it appears in the book. Our picture above diverges. We did not have avocados on hand. But we did have cherry tomatoes. Golly, Suzi would put cherry tomatoes in her oatmeal.
Yes, we did the popcorn thing. It's fun.
Like us, feel free to extend this recipe down the pathways you prefer changing up the ingredient lineup. [Yeah, that's a baseball analogy.] Quick now, though, cook before this season's corn is gone.
---
Grilled Corn Salad with Feta and Burnt Chili Dressing [and Popcorn!]
Yield: serves 4 as a main or 6 as a side
Ingredients:
For the salad:
Olive oil
40g popping corn sea salt
1 teaspoon hot smoked paprika
4 corn on the cob, husks and silky fibers removed
100g feta, crumbled
2 avocados, stoned, peeled and diced
1 small bunch of mint, leaves picked and torn
For the dressing:
2 garlic cloves, unpeeled
2 red chilies
3 tablespoons extra virgin olive oil
Juice of 2 limes
Preparation:
Heat 1 tablespoon olive oil in a large pan over a high heat, add the popping corn and immediately cover the pan. Fairly soon the corn will start popping rapidly, and as soon as the popping slows, remove the pan from the heat and I set aside until the popping stops altogether. Tip the popcorn into a bowl, discarding any unpopped kernels, then season to taste straight away with salt and the paprika. Set aside.
For the dressing, heat a cast-iron griddle pan over a high heat, add the garlic and the whole red chilies and chargrill, turning occasionally, for 5 minutes until lightly charred. Remove from the pan and leave until cool enough to handle, then peel the garlic cloves and roughly chop the chilies. Put them in a small food processor with the olive oil, lime juice and a pinch of salt and blend until smooth.
Preheat a griddle pan over a high heat. Rub the corn cobs with a little olive oil and season with salt, then chargrill, turning regularly, for 8-10 minutes until softened and charred. Stand each cob in turn upright on a chopping board and use a sharp knife to slice down the length of the cob to remove the kernels. Transfer the kernels to a large bowl, add the dressing and toss to coat, then gently toss through the feta, avocado and mint. Just before serving, toss through the popcorn.
---
Source: Root & Leaf by Rich Harris [Kyle 2018]
Photo Information: Canon T2i, EFS 60mm Macro Lens, F/4 for 1/50th second at ISO‑125