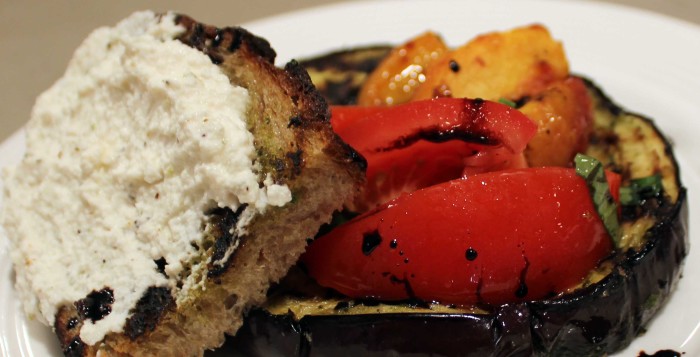 We return again and again to Olives, Lemons & Za'atar by Rawia Bishara. When she came to this country from Palestine, she discovered many new treasures in American markets, including those deep purple eggplants that seem to beckon us all. But, what to do with that eggplant?
Rawia offers a Middle Eastern solution to that question, one that marries roasted eggplant with a tomato salad zippy with chile peppers. As you can see in the picture, we've paired the eggplant with homemade bread coated with goat cheese. This is a meal unto itself, delightful for lunch, brunch, or dinner.
Eggplants are still widely known as aubergines, from the Arabic. The plant began in south Asia and migrated slowly, only reaching the Mediterranean area in the Middle Ages thanks to Arab explorers and traders. There were actually two paths of transmission with two related families of plants: the melongene family coming the Eastern Mediterranean and the aubergine family through the Western. The melongene terminology has faded, but aubergine persists.
And the word "eggplant?" By the 18th century, there were European cultivars that were yellow or white in color and resembled goose or chicken eggs. That's where "eggplant" comes from. And, no, they were not looking at those purple giants when this new name crossed their tongues.
With its roots in Asia, eggplant is still grown predominantly in Asia. China produces the most: nearly 30 million tons a year. India and Iran are the second and third largest producers, with only a fraction of China's output. The largest European growers are Spain and Italy, the 9th and 10th largest growers in the world. But they produce less than 1% of what China does. So, in your next visit to Chinatown, look for an eggplant dish.
On your way to China, consider this Middle Eastern excursion.
---
Grilled Eggplant with Spicy Tomato Salad

Yield: 8 servings

Ingredients:

3 medium eggplants (2 ½ to 3 pounds total), cut into ½-inch rounds
Sea salt for sprinkling
Corn oil for frying
⅓ to ½ cup extra-virgin olive oil for the tomato topping, plus more for roasting
4 long hot or jalapeño chile peppers
8 plum tomatoes or 3 beefsteak tomatoes, peeled and diced
6 garlic cloves, minced
2 lemons, juiced
Freshly ground black pepper
Preparation:

Arrange the eggplant slices on a sheet pan, sprinkle with salt and set aside for 30 minutes or until eggplants begin to sweat. Pat dry.
Add ¼ inch corn oil to a large skillet and heat over high until hot. Working in batches, use a spatula to slide the eggplant slices into the skillet and fry, turning once, until they are medium brown on both sides, about 4 minutes total. Repeat with remaining eggplant, adding more corn oil to the skillet if necessary. Alternatively, brush the eggplant slices with olive oil on both sides and roast in a 500°F oven until golden, turning once, about 15 minutes. Set aside to cool.
Meanwhile, finely dice 2 chile peppers, removing seeds if desired. Finely slice the other 2 chile peppers. In a medium bowl, combine the tomatoes, chopped chiles, garlic, ⅓ cup of the olive oil, lemon juice, salt and pepper, stirring to incorporate. Gradually add as much of the remaining olive oil to achieve your desired consistency. Spoon enough of the tomato mixture onto each eggplant slice to leave a narrow border around the rim.
Garnish with the sliced chiles and serve.
Sources: Olives, Lemons & Za'atar by Rawia Bishara with inputs from Wikipedia

Photo Information Canon T2i, EFS 60 mm Macro Lens, F/3.5 for 1/30th second at ISO‑160