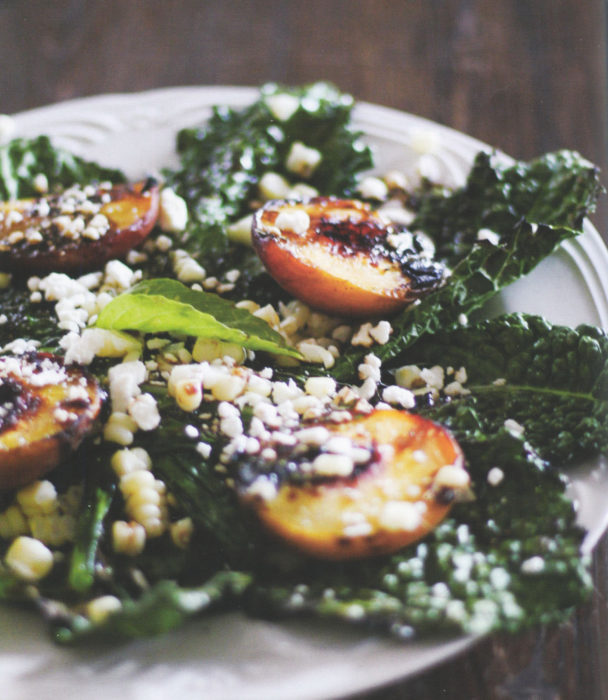 When you pick up a cookbook with a picture of one of the recipes inside — and not all cookbooks do that — jump to that very recipe inside the book. See if the recipe inspires you as much as the pretty picture.
This recipe adorns the cover of Let Them East Kale! by Julia Mueller. I posted a review in 2014 and love the ideas it shares with us, particularly the more complex recipes like this one. For the salad, feta cheese and corn and peaches are combined. The kale and peaches are grilled.
The original recipe mentions corn as an ingredient, but does not talk about cooking it or when to add to the salad, so I have made amendments. Let grill the corn, too, and pop that charred corn into the salad. The caramelization of the corn will be happily balanced by the honey in the dressing.
---
Grilled Kale, Peach, and Corn Salad with Basil Honey Balsamic Vinaigrette
Yield: serves 4-6
Ingredients:
For the dressing:
1 tablespoon balsamic vinegar
1 tablespoon olive oil
1 teaspoon stone-ground mustard
1 teaspoon honey
1 teaspoon fresh basil leaves, finely chopped (about 4 basil leaves)
Salt and pepper to taste
For the salad:
1 ear corn. shucked
Olive oil
3 ripe (but firm) peaches, halved
1 to 2 tablespoons grapeseed or coconut oil (or high- temperature cooking oil of choice)
1 head dino kale
Feta cheese
Salt and pepper to taste
Preparation:
To prepare the dressing, add all dressing ingredients to a small bowl and whisktogether until well combined. Set aside (or refrigerate).
Heat your grill to medium-high or high.
Lightly coat the ear of corn with olive oil. Place on the grill and cook for about a minute, then turn 90° and cook another minute. Keep cooking and rotating until you reach the doneness you like. Yes, you can go all the way to black. Remove from the grill and cut off the kernels.
Lightly coat each of the kale leaves (including stems) in high-temperature oil of choice.
Lightly coat the cut-side of the peaches with oil.
If desired, sprinkle peaches with salt, cinnamon, and/or brown sugar. Place peaches on the grill and cook until softened, golden brown, and juices are seeping out.
Add kale leaves to the grill and cook on each side about 30 seconds to 1 minute, just until kale begins to brown and slightly soften.
Place whole kale leaves and halved peaches on a platter. Sprinkle with feta cheese, salt, and pepper. Top with the corn. Drizzle the dressing and serve.
.Source: Let Them Eat Kale! by Julia Mueller [Skyhorse 2015]