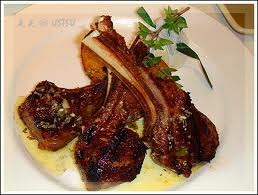 Lamb. A lovely meat, particularly when prepared the right way. My grandmother, all Scottish, would cook me lamb chops. And cook them. And keep cooking them.
Why do Scots use mint jelly with lamb? It's to lubricate your teeth so you have a fighting chance to penetrate meat that is just a tad tough.
Supermarkets have not helped the lamb image. They have offered up less than ideal meat that, when cooked, produces the "lamby" smell that makes heads turn. The wrong way.
Suzen loves lamb, too. She cannot get her clients to consider lamb for Cooking by the Events. They just won't do it.
So, we do. On weekends, when we cook for ourselves and our friends, we buy great lamb, we don't overcook it, and we relish every bite. This recipe is a perfect appetizer, one that is naturally paired with a stiff cocktail — and you'll find one of those at this blog this weekend featuring grilled peaches and bourbon.
Start with this appetizer, offer a rich risotto for the main course, and finish with a fresh fruit tart. That's a meal to treasure.
Grilled Lamb Chops with Glazed Shitake Mushrooms
Servings: 2 to 4
Preparation Time: 45 minutes
Ingredients:
½ cup Pedro Ximenez vinegar or sherry vinegar
2 tablespoons unsalted butter
2 tablespoons extra-virgin olive oil, plus more for brushing
1 pound shitake mushrooms, stems discard and caps sliced
Kosher salt and freshly ground black pepper
1 rack of lamb spareribs (about 1 pound) cut into individual ribs
Preparation:
In a .small saucepan, simmer the vinegar over moderately low heat until reduced slightly to ⅓ cup, about 5 minutes.
In a large skillet, melt the butter in the 2 tablespoons of olive oil. Add the mushrooms and cook over high heat , turning once until golden, about 5 minutes. Add 3 tablespoons of the reduced vinegar and cook over low heat until the mushrooms are nicely glazed and tender, about 3 minutes. Season with salt and pepper.
Light a grill or preheat the broiler. Brush the ribs with olive oil and season with salt and pepper. Grill the ribs over moderate heat, turning occasionally, until light charred and cooked through, about 2 minutes a side. Brush the ribs with the remaining vinegar and grill, turning until nicely glazed about 1 more minute. Transfer the ribs to a platform and serve the mushroom alongside.
The total cooking time for a chops of different thicknesses are shown in the following table, with credit to Steven Raichlen.
[ahm-wp-tabular id=8878 template=Web2]
Sources: Food and Wine Cocktails 2012 and The Barbecue Bible by Steven Raichlen