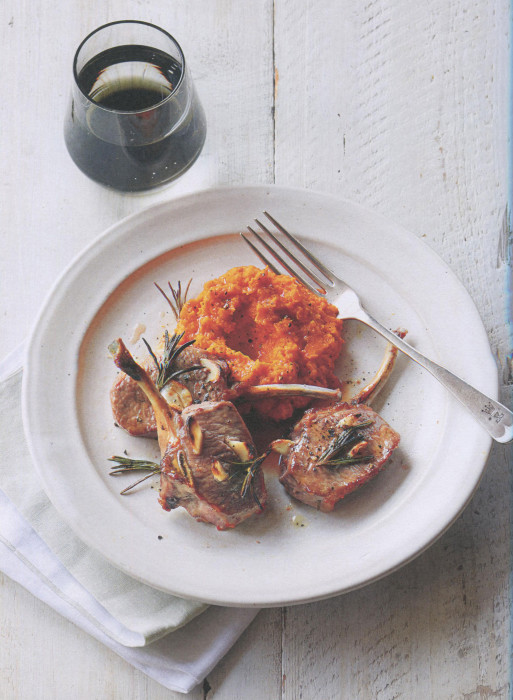 Yesterday I featured a breakfast dish — Kale and Eggs with Griddled Tomatoes — from the new book Paleo: Monday to Friday. Author Daniel Green provides an excellent discussion of the Paleo concept: what it is, what you can eat, what you should not. It's okay, chocolate is permitted in moderation.
That breakfast dish is lovely. But to close the day, how about something equally different. As with so many meat dishes, it is not the meat itself but the sides or sauces that make the main course experience one you will appreciate. Here, the usual mashed potatoes are gone — actually, potatoes are gone completely in the Paleo world. But, not to worry. Along with the lamb chops is a love puree of carrots prepared with olive oil. [That's a hint: you need good olive oil in your pantry.] Heat and sweet are combined to contrast with the lamb, which is cooked with the traditional rosemary and garlic.
This recipe is typical of the fare in Paleo: Monday to Friday. It's a happy recipe. Easily prepared and just as easily enjoyed.
The lovely photograph is the artistry of Peter Cassidy. Here's a review of the book.
---
Grilled Lamb Chops on Carrot Purée with Roasted Garlic

Yield: serves4

Ingredients:

1.3 pounds carrots, peeled and roughly chopped
12 lamb chops or cutlets (about 4 ounces each), trimmed of fat
2 garlic cloves, thinly sliced
4 sprigs fresh rosemary, cut into thirds
2 tablespoons olive oil
Sea salt and freshly ground black pepper
Preparation:

Preheat the oven 350°F.
Place the carrots in a saucepan of boiling water and cook for 20 to 25 minutes until soft.
Meanwhile, using a sharp knife, cut a few incisions in the lamb and slide in a few garlic slivers and a sprig of rosemary in each chop. Place on a foil-lined baking pan and roast in the oven for 10 to 12 minutes (depending on size).
Drain the carrots, transfer to a food processor, and add the olive oil. Season with salt and pepper to taste and process to a smooth puree.
Serve the lamb with the carrot puree and garnish with some fresh rosemary.
---
Source: Paleo, Monday to Friday by Daniel Green Kyle, 2015]