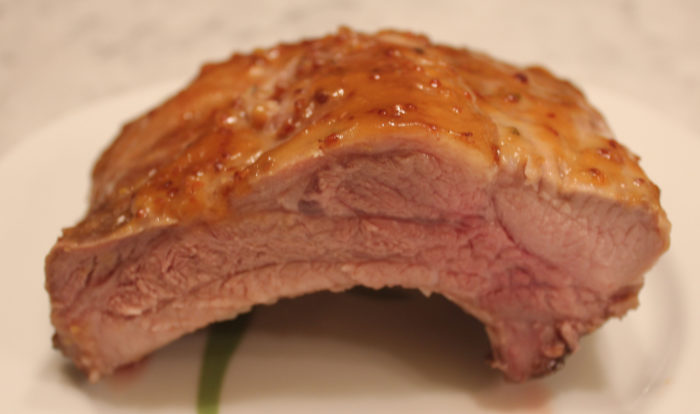 Yesterday I posted a recipe from Burning Desires for a Curried Marmalade-Mustard Glaze. Author W. Park Kerr says this glaze is ideal for pork. And here's a grilled spareribs recipe proves the point. The glaze has a substantial "body" — it is not runny or watery — so even after cooking, you see the strong presence of the glaze on the ribs.
The recipe here calls for using wood chips and truly smoking the ribs. You can, of course, follow a different path and simply grill over wood or gas flame.
---
Grilled Spareribs with Curried Marmalade-Mustard Glaze
Yield: about 2 cups
Ingredients:
2 sides (about5 ½ pounds) regular (not baby back) spareribs
¾ teaspoon salt
½ teaspoon freshly ground black pepper
About ½ cup canned chicken broth
1 recipe Curried Marmalade-Mustard glaze [see the post from 7/15/2017]
2 cups wood smoking chips, preferably fruitwood or hickory
Preparation:
Preheat the oven to 375°F. Sprinkle the spareribs evenly with the salt and pepper. Wrap each side of ribs tightly in foil. Set the wrapped ribs on a baking sheet and bake about 1 hour, or until tender. Cool the ribs in the foil to room temperature.
Pour off and degrease the rib juices. Add chicken broth to the rib juices if necessary to yields 1 ⅓ cups. The recipe can be prepared to this point up to 1 day ahead. Wrap the ribs tightly, cover the rib juices and refrigerate both. Return them to room temperature before proceeding with the recipe.
For easier handling, cut each side of ribs in half. In a medium saucepan over medium heat, bring the rib juices to a simmer. Cook, uncovered, stirring once or twice, until the juices are reduced to a few syrupy spoonfuls, 7 to 10 minutes. Scrape these into the glaze and stir to combine.
Light a charcoal fire and let it burn until the coals are evenly white or preheat a gas grill (medium-low). Wrap the wood chips partially in foil, creating a small packet that is open at the top. Set the packet on the hot coals or hot lava stones; position the grill rack about 6 inches above the heat source.
When the chips are smoking heavily, place the ribs on the grill [use the cooler edges of the trill if necessary to prevent the glaze from burning] and cook, turning and basting the ribs often with the glaze, using it all, until they are well coated, shy, and crisp, about 20 minutes.
Remove the ribs from the heat, cut them apart if desired, and serve hot or warm.
---
Source: Burning Desires by W. Park Kerr [William Morrow, 1994]
Photo Information: Canon T2i, EFS 60mm Macro Lens, F/4 for 1/30th second at ISO‑30