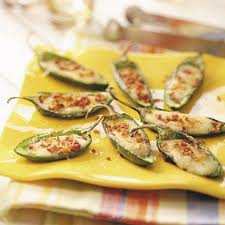 "Would you?" I began.
"No."
"But, …"
"No."
"You see," I tried.
"No," she cut me off.
"CAN I JUST FINISH A SENTENCE, PLEASE!"
"Of course," said Miss Demur.
"It's my birthday and I want this dish."
"Your birthday," her voice was raised, "is in March. This is July."
"Well, Suzen, that means that I was conceived in July and you know that life begins …"
She walked out of the room. The last thing I think she said was something about "you are on your own."
Tonight, I am on my own. Suzen is in the city. I am upstate. I made these stuffed jalapenos, and I loved them. I grilled them inside and I must say the smell seems to have pervaded through the house but she won't be here for a couple of days so …
This recipe, as written, says it works for 14 peppers. My 7 peppers were large and I used all the filling. You'll need to adjust depending on the number and size of the jalapenos you select. You do want to seed your jalapenos. There is plenty of heat in just the chili "meat.'
I need to stop typing now. My eyes keep tearing up and I have to open all the windows.
Stuffed Jalapenos
Yield: 7-14 jalapenos
Ingredients:
2 slices center-cut bacon
1 cup cream cheese
¼ cup cheddar cheese [or you can use blue!]
¼ cup minced green onions
Juice of one lime
Dash of salt
1 small garlic clove, minced
7+ jalapeno peppers, halved lengthwise and seeded
Cooking spray
2 tablespoons chopped fresh cilantro, optional
2 tablespoons chopped seeded tomato, optional
Preparation:
Preheat your grill to medium-high.
Cook the bacon in a skillet over medium heat until crisp. Removed the bacon from pan, and drain on paper towels. Crumble the bacon.
Combine the bacon, cheeses, onion, lime juice, salt and garlic in a bowl, stirring to combine.
Divide the cheese evenly and fill the pepper halves.
Place the peppers, cheese side up, on the grill rack or grill grate coated with cooking spray.
Cover and grill the peppers 8 minutes or until the bottoms of the peppers are charred and the cheese mixture is lightly browned.
Place the peppers on a serving platter. Optionally, sprinkle with cilantro and tomato.
Source: adapted from Cooking Light Magazine