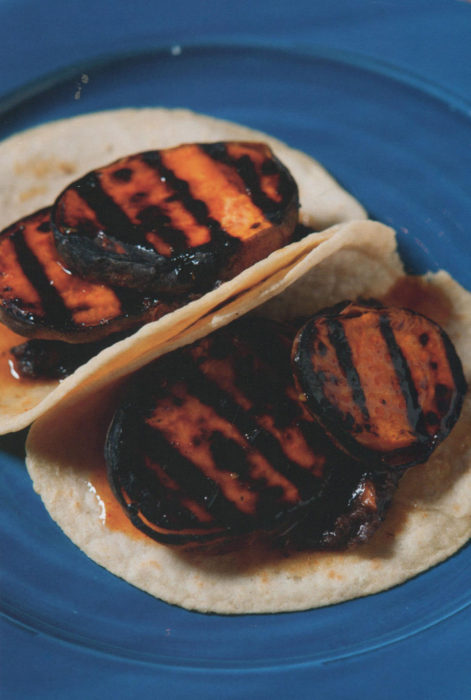 Suzi and I are working our way through the spicy The Indian Cooking Course by Monisha Bharadwaj. It is an important book, the ideal vehicle for learning the intricate and delicate techniques of Indian cuisine.
I had lunch at Taco Bell yesterday. We all sin.
That Taco Bell image of a taco cannot be erased: lots of shredded lettuce, some tomato, cheese to be sure and ground meat with intense but unknown spices. There are, of course, other taco avenues. Healthier, prettier, and more interesting. You can find a boatload of upscale taco recipes in Dos Caminos Tacos by Ivy Stark. This particular recipe is about as far from Taco Bell as you can imagine. No meat, no lettuce, no tomato. It's grilled sweet potatoes with a lovely Ancho-Maple Glaze. So, no, you won't need any hot sauce. But a Pepsi still is the perfect match.
---
Grilled Sweet Potato Tacos with Ancho-Maple Glaze
Yield: 8 tacos
Ingredients:
For the tacos:
2 medium sweet potatoes [about 1 pound]
Vegetable oil to brush the grill [1-2 teaspoons]
1 cup rinsed and drained canned black beans
1 habanero chili
Ancho-Maple Glaze

8 blue corn tortillas, warmed
2 cups grated cheese such as Cotija or queso fresco
¼ cup olive oil to brush griddle
1 teaspoon ancho chile powder
For the ancho-maple glaze:
½ cup maple syrup
1 tablespoon Dijon mustard
1 tablespoon ancho chile powder
Fine sea salt and freshly ground pepper
Preparation:
For the glaze, in a small bowl, stir together the maple syrup, mustard, and chile powder. Season to taste with salt and pepper.
For the tacos themselves, in a large pot, bring enough lightly salted water to cover the potatoes to a boil. Add the potatoes, cover, and cook until just tender on the outside when pricked with the tip of a knife, about 12 minutes. Drain and, when cool enough to handle, peel and cut into ¼-inch-thick round slices.
Heat a grill or grill pan over high heat until hot. Brush with a little oil. Lay the potato slices on the grill and cook just until marked by the grill on both sides, turning once. Remove and set aside.
Meanwhile, in a food processor, puree the black beans and habanero with a little oil until almost smooth. Prepare the Ancho-Maple Glaze.
Heat a griddle or heavy skillet over medium-high heat.
For each tortilla, spoon about ¼ cup of beans over half of the tortilla, then top with ¼ cup of cheese and three slices of sweet potatoes. Season to taste with salt and pepper.
Fold each in half into a semicircle. Brush on a little oil and sprinkle with a little ancho chile powder. Griddle for 6 minutes or until crisp. Serve two per person and drizzle with Ancho-Maple Glaze.
---
Source: Dos Caminos Tacos by Ivy Stark [Countryman Press, 2014]