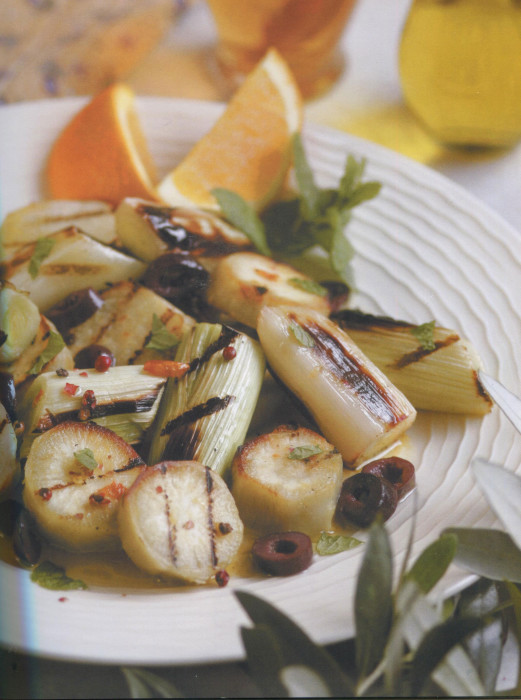 Diane Kochilas has written many award-winning cookbooks including Mediterranean Grilling in 2007. It's a great book because it gives you new perspective on old friends.
For example, the sweet potato. I know, it is almost fall, and we are already thinking ahead to holiday meal. We gather with friends and family and there is always loads of advanced discussion about what we are going to do.
Or not to.
Or have to do.
Somehow, sweet potatoes have become a "must" dish for the holidays. For some folks, sweet potatoes are about as obligatory as alimony. We do them because we have to. I don't eat them under court order, exactly, but here is a recipe where you will volunteer to gobble them down.
Grilling the sweet potatoes will enhance their "sweetness." Personally, I have never thought of them as sweet. But this accompanying dressing is quite happily both sweet and spicy, sure to transform your impression of sweet potatoes far, far to the sweet side.
Suzi looked at this picture form the book and said, "Those don't look like sweet potatoes to me." It's all leek on top, that's true, but the sweet potatoes have to be there underneath. Of course, if you have a preference for turnips or parsnips, you could venture down your own garden path.


---
Grilled Sweet Potatoes and Leeks with Mint, Orange and Olive Vinaigrette

Yield: serves 4

Ingredients:

For the veggies:

1 pound long sweet potatoes, scrubbed
3 large leeks, roots, tough upper greens, and outer layers removed
Vegetable oil for brush the grill rack
For the dressing:

¼ cup strained fresh orange juice
2 tablespoons strained fresh lemon juice
½ cup extra virgin olive oil
½ teaspoon sugar
Salt to taste
1 scant teaspoon pink peppercorns, ground with your fingertips
1 tablespoon Dijon mustard
½ cup chopped fresh mint leaves
10 Kalamata olives, pitted and sliced crosswise
Preparation:

Place the sweet potatoes in a large pot of cold, salted water and bring to a boil. Reduce the heat to a simmer and cook the potatoes until they can be pierced with a knife, about 30 minutes.
While the potatoes are cooking, slit the leeks lengthwise without cutting all the way through and wash thoroughly under cold water, removing any sand from their interior layers. Pat dry.
Heat the grill to medium-hot and oil the grill rack.
Remove the sweet potatoes and place in a cold water bath or rinse under cold water in a colander. When the potatoes are cool enough to handle, peel them and cut in ¼‑inch rounds. Cut the leeks on the bias into 1‑inch thick ovals. Gently toss the leeks and sweet potatoes in the olive oil and season with salt and pepper, being careful not to separate the leek layers. Place the leeks and then the sweet potatoes on the hottest par of the grill and grill them, turning once until the leeks are lightly charred and caramelized and the potatoes are tender and lined with grill marks. The leeks with take 10 to 12 minutes total. The sweet potatoes 6 to 8 minutes. Remove and place in a serving bowl or on a small platter.
Make the dressing: In a medium bowl, whisk together the orange and lemon juices. Drizzle in the olive oil, whisking vigorously to emulsify. Add the sugar, salt, pink peppercorns, and mustard. Stir in the mint and olive and pour over the sweet potatoes and leeks. Toss gently and serve.
---
Source: Mediterranean Grilling by Diane Kochilas [William Morrow, 2007]