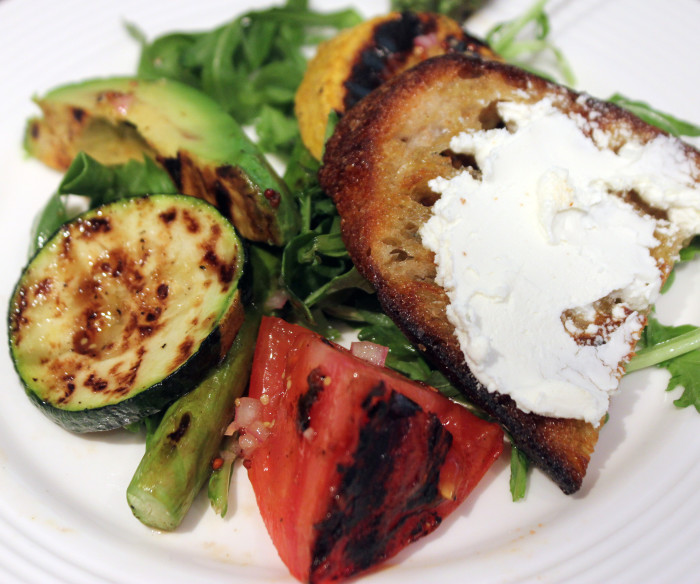 It's strictly your choice. This salad can be just that: salad. Or, it can be the entire meal. There is asparagus and zucchini here, which provide bulk and substance as well as flavor. Tomatoes provide their usual accents while avocadoes donate their rich, cream texture, here in a grilled format.
There is so much going on flavor wise, that the salad is quite fulfilling. Of course, just to add that extra layer we all desire, this salad comes with crostini covered in the goat cheese of your choice.
Chilled white or rose wine is a natural accompaniment. You want a brisk wine flavor that is strong enough to announce its presence in the face of all that vegetable competition. And one that works with goat cheese.
The most common wine paired with goat cheese is Sauvignon Blanc. Albarino from Spain is enjoyed there with their very particular and prized goat cheeses. Riesling will work well as do Chardonnay or Syrah. If you are lucky, you can query someone in a gourmet shop that furnishes both wine and cheese to get an accomplished pairing. It's a task to know wine, a task to know cheese, and surely a leap to be expert in both.
---
Grilled Vegetable and Arugula Salad with Goat Cheese Crostini

Yield: serves 4

Ingredients:

Dijon Vinaigrette:

¼ cup extra-virgin olive oil
3 tablespoons white wine vinegar
2 tablespoons finely chopped shallots
1 ½ tablespoons coarse-grain Dijon mustard
Kosher salt and freshly ground black pepper
Salad and Crostini:

5 ounces baby arugula (about 7 cups not packed)
2 firm but ripe Hass avocados, quartered, pitted but not peeled
2 medium tomatoes (preferably heirloom), halved lengthwise
2 plum tomatoes, halved lengthwise
2 zucchini, halved lengthwise
1 pound thin asparagus, woody stems trimmed
Olive oil, for brushing
Kosher salt and freshly ground black pepper
1 small baguette, cut on a very sharp diagonal into twelve ¼-inch-thick slices
4 ounces fresh goat cheese, at room temperature
Preparation:

To make the vinaigrette, in a small bowl, whisk the extra-virgin olive oil, vinegar, shallots, and mustard together to combine (but not emulsify). Season to taste with salt and pepper.
To make the salad and crostini, prepare a grill for medium-high cooking over direct heat.
Place the arugula in a large wide shallow bowl or on a large platter and set aside.
Lightly coat the cut sides of the avocado quarters, tomatoes, zucchini, and the asparagus with olive oil and season with salt and pepper. Brush one side of the baguette slices with olive oil and season with salt and pepper.
Grill the baguette slices for about 2 minutes per side, or until they are toasted. Spread the goat cheese over the crostini. Set aside on a plate.
Next, grill the avocados, cut side down, for about 3 minutes, or until they are slightly charred and grill marks form. Using your fingers, remove the peel from the avocados and place the avocados on top of the arugula. Grill the remaining vegetables, turning them as needed, until they are slightly charred, about 5 minutes per side for the tomatoes, about 4 minutes per side for the zucchini, and about 5 minutes for the asparagus. As the vegetables come off the grill, arrange them on top of the arugula.
Drizzle the vinaigrette over the salad and the crostini. Season to taste with salt and pepper. Toss the salad at the table and serve with the crostini.
Source: What's for Dinner by Curtis Stone with inputs from About.com

Photo Information Canon T2i, EFS 60 mm Macro Lens, F/5 for 1/60th second at ISO‑1000