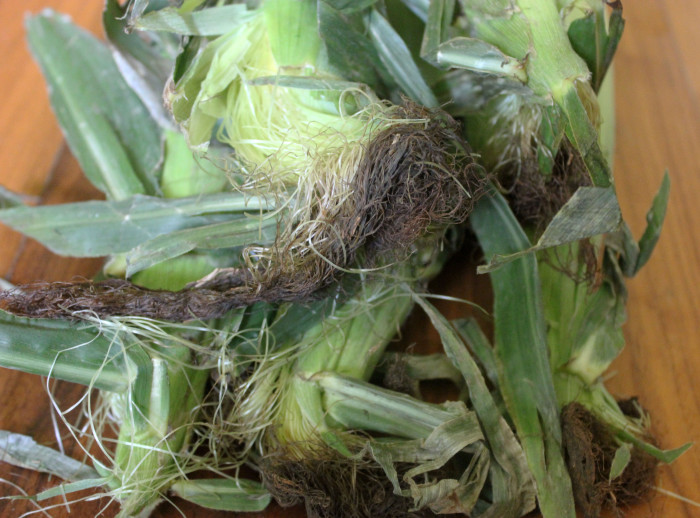 In an earlier post, I've suggested that the microwave is a quick, very quick way to cook fresh corn. You can leave the corn with the shucks still on and simply "cook" for 4 minutes for one or 6 minutes for two ears at a time. Microwave cooking gives you an ear that is certainly "done" in the sense that the kernels are hot and edible.
But, if you desire the flavor from traditional heat and flame, that early edging toward caramelization, then your gas grill is the avenue to superior corn. It is, though, a slower avenue, one that takes about 20 minutes for one ear or ten.
To cook corn on your grill, first fire up the grill. As the temperature is rising, prepare the corn. Loosen the corn shucks but do not remove. You want to gain access to that silk at the top of each ear. Remove the silk and fold the shuck back up over the corn. If you left the silk on, you'd get burning and some unpleasant tones for the kernels in contact with the silk.
Please the corn on the grill and close the cover. After 5 minutes, turn the corn 180°. Wait another 5 minutes and turn a mere 90°. Another 5 minutes and a full 180°.
Using tongs — because that corn is now very hot — remove the ears of corn to a metal bowl. Wait a few moments then shuck the corn. Eat immediately with the adornments of your choice. Butter, butter with paprika, butter with chile powder, …
Allow two ears per persons. It is so good, that many people will not want, or be able, to stop with just one ear. And, if you should happened to have leftovers, then you'll see a recipe tomorrow to absorb those leftover ears!
Source: Brian O'Rourke
Photo Information Canon T2i, EFS 60mm Macro Lens, F/4.5 for1/25th second at ISO‑3200