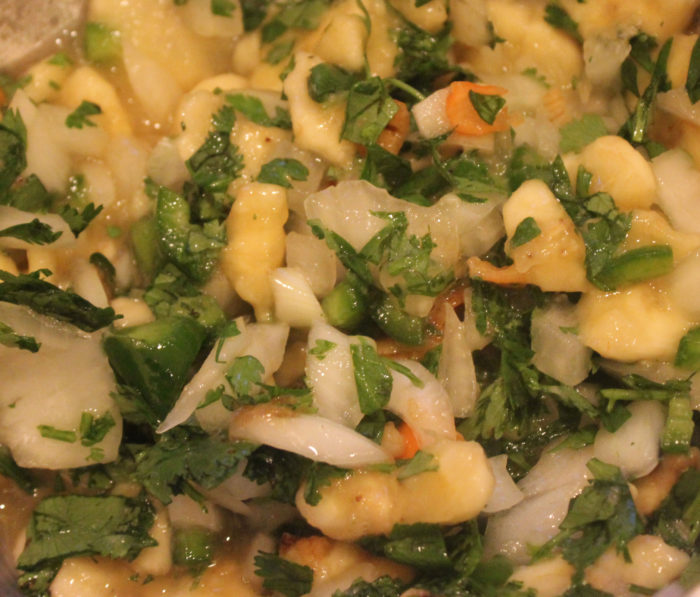 A couple of years ago I posted a Banana Salsa with Pepper Zing. The peppers there were red bell and serrano. Just one serrano.
Here's a new twist. The serrano is gone, replaced by one habanero and one jalapeno. And, there's onion this time, preferably a Vidalia. And cilantro!
This version is hotter for sure. I served it, not with chips, but as the side dish for crab cakes. It is the perfect foil for that sweet crab meat.
You can, of course, grab some chips, a margarita, and just relish the bananas and those intense peppers.
---
Habanero, Jalapeno, Onion and Banana Salsa
Yield: 1 pint+
Ingredients:
1 medium Vidalia onion
1 Habanero pepper
1 jalapeno pepper
2 ripe but not browning bananas, skinned
Juice of two lemons
¼ cup brown sugar [more if needed]
Handful of cilantro
Salt if needed
Preparation:
Dice the onions and peppers and place into a bowl. Quarter the bananas lengthwise, then dice. Add to the bowl.
Pour the lemon juice over the mixture. Stir to mix. Add the brown sugar, then taste test. Add more sugar if needed.
Chop the cilantro and add to the bowl. Stir to blend. Taste test again. You may want to add a dash of salt.
Let the salsa stand at room temperature for 15 minutes before using. That allows the sugar to work on the banana while the onions soften thanks to the lemon juice. And the flavor, now happily introduced, can go on to marry.
---
Source: Brian O'Rourke
Photo Information: Canon T2i, EFS 60mm Macro Lens, F/4.5 for 1/50th second at ISO‑3200