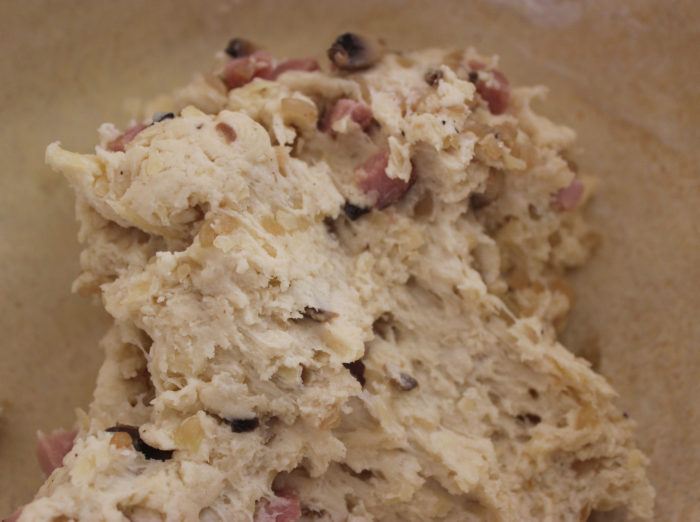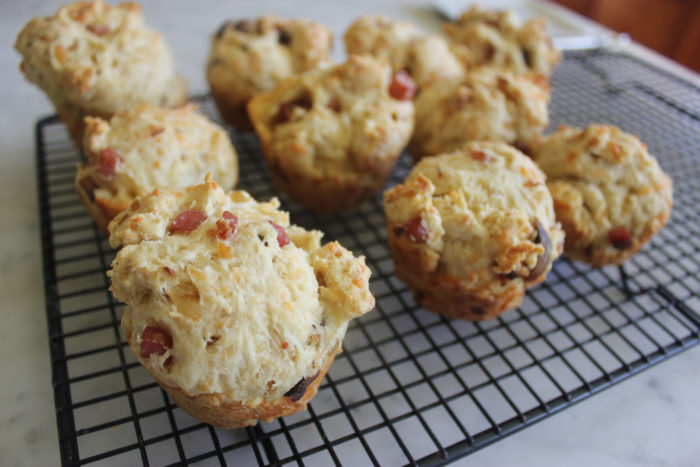 Muffins. Who doesn't like muffins? Warm from the oven, the butter melting, topped with jam or honey. What better way to start the day.
Actually, there is an alternative way, a savory way. This muffin is filled with ham and mushrooms and cheddar cheese. The batter there is stiff and thick, but it bakes to firm — and not chewy — muffins that are packed with flavor. We heat these up, top with a dollop of butter, and pair with espresso. No honey. No jam. No Diabetes Type 2 guilt!
There is a lot of cheese here. Two cups of cheddar. You can make this dish quite different by switching out the cheddar or mix and matching multiple cheeses. Some Jalapeno Jack perhaps?
Oh, it says to preheat the oven to 340°F. This comes from a lovely British book, The Hummingbird Bakery Cookbook, and they are just a tad different with their ovens. 350°F is fine.
Ham and Mushroom Muffins
Yield: 12 smallish muffins
Ingredients:
½ stick (50 g) unsalted butter
½ small onion, finely chopped
1 cup (80 g) chopped button mushrooms
3 cups (360 g) all-purpose flour
2 ½ teaspoons baking powder
2 cups (250 g) firmly packed grated Cheddar cheese
1 cup (220 ml) whole milk
1 egg
2 ¾ ounces (80 g) smoked ham, finely chopped
Sea salt and freshly ground black pepper
Preparation:
Preheat the oven to 340°F.
Melt the butter in a saucepan over medium heat, then fry the onion and mushrooms until cooked, about five to six minutes. Season with sea salt and pepper. Set aside.
Put the flour, baking powder, and cheese in a bowl. In a separate bowl, mix the milk and egg together, then slowly pour into the flour mixture and beat with an electric hand mixer until all the ingredients are well mixed.
Stir in the onion, mushrooms, and chopped ham with a wooden spoon until evenly dispersed. The batter will be sticky and dense, similar to dough.
Divide the batter among the paper baking cups until almost full and bake in the preheated oven for 30 to 35 minutes, or until deep golden and the muffins bounce back when touched. A skewer inserted in the center should come out clean. Let the muffins cool slightly in the pan before inverting onto a wire rack to cool completely.
Source: The Hummingbird Bakery Cookbook by Tarek Malouf [Michell Beazley, 2018]
Photo Information [top]: Canon T2i, EFS 60mm Macro Lens, F/4.5 for 1/40th second at ISO‑640
Photo Information [bottom]: Canon T2i, EFS 60mm Macro Lens, F/3.5 for 1/30th second at ISO‑100