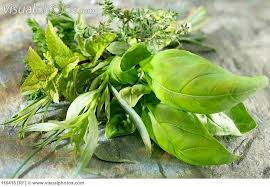 Here's a savory trick. You are having a holiday meal, a traditional one. Turkey, stuffing, gravy, mashed potatoes, and something cranberry. What can you do to make that meal different? You can't take away the gravy or the stuffing, but you can add something fresh and bright.
Offer your dinner mates a little break between first and second helping. This herb sorbet will cool the mouth, yet let it still be very much alive with the seasonal seasonings. It's easily prepared and will surprise both palettes and brains.
Herb Sorbet
Yield:   serves 12
Ingredients:
1 ¼ cups water
1 cup water
2 limes
1 egg white
¾ cup dry white wine
½ cup dry vermouth
Salt, nutmeg, and white pepper to taste
Some combination of the following fresh herbs to make ½ to ¼ cup total: peppermint, lemon balm, lemon thyme, dill, rosemary, tarragon, parsley, oregano, sorrel, or basic
½ cup champagne
Preparation:
Mix the sugar and water in a saucepan and stir over medium heat until the sugar is dissolved. Take off the heat and cool.
Cut the zest off the limes with a zester or vegetable peeler and chop fine, the squeeze the limes into a small bowl.
In a mixing bowl, combine the sugar syrup, lime zest, lime juice, egg white, white wine, and vermouth.
Chop all the herbs finely in a blender or food processor and add to the mixtures. Mix well and place in an ice cream freezer, processing according to the manufacturer's instruction.
To serve, spoon a small scoop into each of 12 cups and drizzle with the champagne.
This sorbet can be frozen but it will quickly lose its freshness, so it's best to prepare and eat.
Source:   Hudsons' on the Bend, Austin, Texas