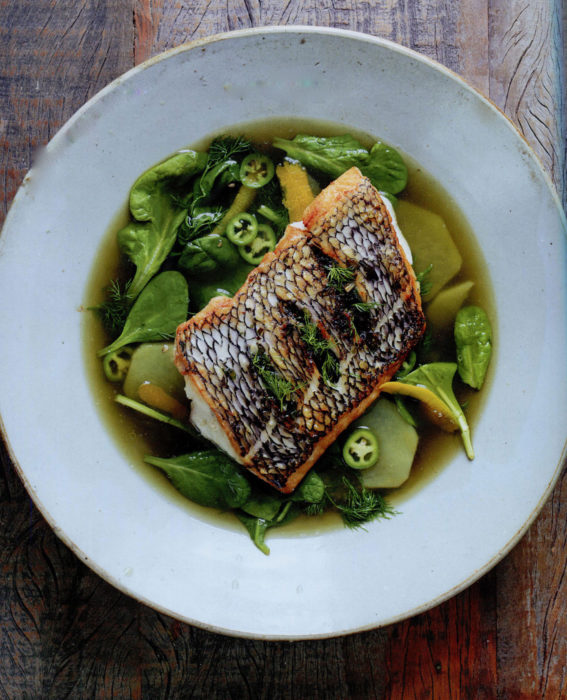 This recipe comes from Home Cooking with Jean-Georges and it is a prototype of the elegant food you will find in his book. While we do cook fish at home, most of us tend to prepare it simply: a pan-fry or barbecue, the fish plated on its own, some sauce or lemon on the side. We rarely take the time to make the fish an integral element of a more complicated dish. Like this one so beautifully pictured above.
Here rosemary, lemon, ginger, mint, basil, dill and even serranos are employed to make a dish abundant in complex flavor. And glorious in appearance.
This recipe takes some time for all the elements, so it's best for a weekend feast when you can play in the kitchen and be prepared to impress your dining guests. And probably yourself, too.
Not a sea bass fan? Substitute away.
---
Herbed Sea Bass and Potatoes in Broth
Yield: serves 4
Ingredients:
3 sprigs fresh rosemary, chopped
1 small bunch fresh thyme (½ ounce), chopped
2 (3-inch) strips fresh lemon zest (removed with a vegetable peeler), thinly sliced
1 tablespoon finely chopped peeled fresh ginger
Kosher salt
2 large Yukon Gold potatoes, cut into ½-inch chunks
1 small serrano chile
2 tablespoons finely chopped fresh mint leaves
2 tablespoons finely chopped fresh basil leaves
2 tablespoons finely chopped fresh dill
1 tablespoon finely chopped fresh marjoram leaves
4 (6- to 8-ounce) black sea bass fillets, skin on
3 tablespoons extra-virgin olive oil
6 ounces baby spinach
Lemon wedges, for serving
Preparation:
Blend the rosemary, thyme, and 4 ½ cups water in a blender until the herbs are finely ground. Strain through a fine-mesh sieve into a large saucepan, pressing on the herbs to extract as much liquid as possible; discard the solids. Add the zest, ginger, 1 tablespoon salt, and the potatoes to the pan. Bring to a boil, then reduce the heat to maintain a steady simmer. Cook until a knife easily pierces a potato, about 20 minutes.
Thinly slice a quarter of the chile and set aside. Remove the stem and seeds from the remaining chile and chop finely. Combine the chopped chile with the mint, basil, dill, and marjoram in a small bowl. Cut three ½-inch- deep slits crosswise in each fillet. Stuff ½ teaspoon of the herb mixture in each slit, being careful to not get it on the skin. Season the fish with salt.
Heat half of the oil in a large skillet over medium-high heat until almost smoking. Add 2 fillets, skin side down, and cook until golden brown and crisp, about 3 minutes. Carefully flip and cook until the fish is just cooked through, about 6 minutes longer. Transfer to a warm plate. Repeat with the remaining oil and fillets.
Add the spinach and sliced chile to the potatoes and broth. Cook, stirring, until the spinach just wilts. Divide the potato mixture and broth among shallow bowls. Top with the fish and season with a little salt. Serve with lemon.
---
Source: Home Cooking with Jean-Georges by Jean-Georges Vongerichten [Clarkson, 2011]