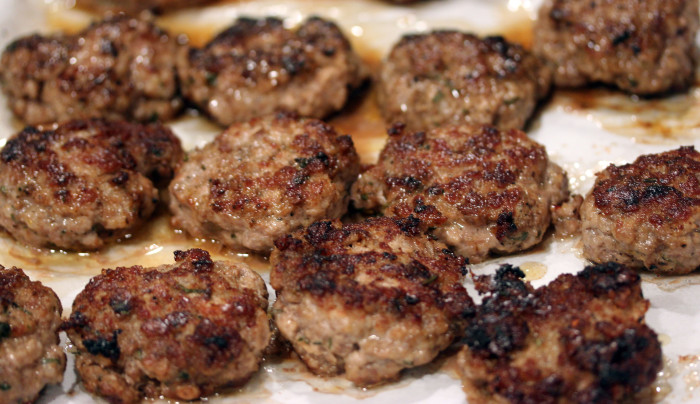 For a complete brunch, you may just want some protein. Maybe bacon. Maybe something more. Sausage, for example. Yes, you can buy sausage everywhere. There are those warning tales of "what goes into the sausage you don't want to know." And if you turn the package over and try to read the label, you will find yourself with unfond memories of you last chemistry class.
What if you did know what went in your sausage? And you had no trepidation about any of the ingredients or techniques?
Here, with thanks to the ultimate foodie, is a sausage recipe for you. It's a two stage process, grinding your own meat and then using it on the day you want your sausage. Your grind can sit in the fridge and be used with a week, or frozen for use up to three months away. If you have some idle time on weekend, and you feel like doing something "manly" with meat, then grind away. And the next Sunday, save the bacon and bring on the sausage.
Your sausage.
Breakfast Sausage
Yield: 2 pounds or 16 2" patties
Ingredients:
·       2 pounds pork butt (2 ½ pounds with bone), diced into 1/4-inch pieces
·       ½ pound fat back, diced into ¼-inch pieces
·       2 teaspoons kosher salt
·       ½ teaspoon freshly ground black pepper
·       2 teaspoons finely chopped fresh sage leaves
·       2 teaspoons finely chopped fresh thyme leaves
·       ½ teaspoon finely chopped fresh rosemary leaves
·       1 tablespoon light brown sugar
·       ½ teaspoon fresh grated nutmeg
·       ½ teaspoon cayenne pepper
·       ½ teaspoon red pepper flakes
·       Special equipment: meat grinder
Preparation:
Combine diced pork with all other ingredients and chill for 1 hour. Using the fine blade of a grinder, grind the pork. Form into 1-inch rounds. Refrigerate and use within 1 week or freeze for up to 3 months. For immediate use, sauté patties over medium-low heat in a non-stick pan. Sauté until brown and cooked through, approximately 10 to 15 minutes.
Source: Alton Brown, of course
Photo Credits: Canon T2i, 18-55MM Macro lens, F/2.8, 1/100th second, ISO 1000