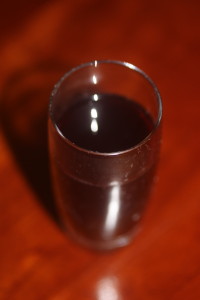 That is cherry wood in the background. From a 12-foot cherry dining room table that Suzen fell in love with. And around which we built our house in the Catskills. I know that sounds a little backwards — a house for table, and for the dining room she craved. But that is what Suzi wanted.
We are a typical couple. She is the social one. I am the male loner, that man she worries might go postal if not surrounded by civilized people. In our New York City loft, Suzi runs Cooking by the Book. The entire loft is oriented around her corporate team building events. During the week, we live "around" the business. Literally.
On weekends, we are upstate. In the dining room. Seated with friends around that cherry table. And I rarely think about going postal, or even UPS.
Oh, to the point. The glass holds, naturally, cherry syrup. This is a wonderful device with multiple uses: in drinks, with fruit, over pound cake, …
The syrup takes minutes to make and stores for a month. Tomorrow, I'll suggest a beverage that uses this cherry syrup in a sublimely delicious way. So, you need to slip out and get some frozen cherries. [And some bourbon or whiskey!]
Homemade Cherry Syrup
Yield: 2 ½ cups
Ingredients:
1 ½ cups water
1 ½ cups sugar
1 12-ounce bag of frozen cherries
Preparation:
Place all the ingredients in a sauce pan over medium heat. Stir with a slotted spoon and methodically push the spoon to the side of the pan and crush the cherries. Take your time, performing this crushing action as you bring the syrup to a boil.
Bring to a full boil, then remove from the heat. Stir and crush the final cherries. Allow to cool, then store in the refrigerator in a closed container.
Source: Brian O'Rourke inspired by Bitters by Brad Thomas Parsons
Photo Information: Cannon T2i with 18-55MM macro lens, shot at F/2.8 and ISO 400 for 1/60th second