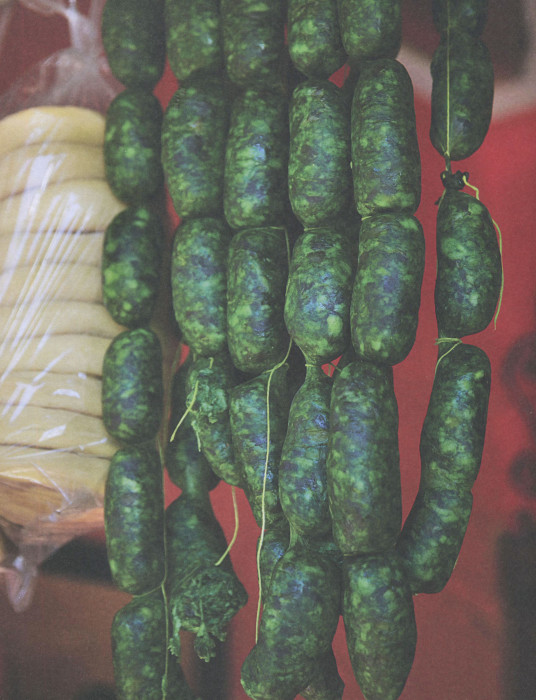 Eat Mexico is a brilliant new cookbook by Lesley Tellez devoted to the street and markets foods of Mexico, particularly Mexico City. The book is filled with exciting recipes and, unless you have lived in Mexico City as Lesley did, these recipes will surprise you.
The first element of surprise here is visual. The book is brilliantly photographed by Penny De Los Fondas. I have many photo favorites but this one with green chorizo is simply stunning. You see this band of green sausage, you have to stop, and you turn to the recipe. What is this? Green chorizo? Homemade? Oh, my.
In Mexico, the green color typically comes from tomatillos but Lesley found that using those fruits made the sausages too moist. She prefers spinach which affords a soft green color. This photo is from a street food stand and those vendors often use food coloring. That's why this sausage seems to radiate its greenness.
This sausage typically is crumbled for use in tacos. Add a splash of lime, a dollop of salsa, and you have a green meal. Literally green.
Making sausage as home is a bit time and labor intensive, but the payoff is mighty. In this recipe you do not stuff sausage skins. Instead you cook the mixture as one large patty, ready to crumble and enjoy.
---
Homemade Green Chorizo

Yield: serves 10

Ingredients:

1 small poblano chile




1 large serrano chile, roughly chopped




1 garlic clove, roughly chopped




⅛ medium onion, roughly chopped




1 cup packed spinach leaves




2 large stems fresh cilantro




¼ teaspoon cumin seeds




⅛ teaspoon peppercorns




¼ teaspoon dried Mexican oregano




Salt




2 pounds pork shoulder, cut into large cubes




8 ounces pork fat, cut into large cubes




½ cup raw unsalted peanuts, toasted and roughly chopped




½ cup roughly chopped pecans




2 tablespoons apple cider vinegar




30 corn tortillas, warmed




7 limes, cut into wedges




Salsa of choice



Preparation:

Roast the poblano over an open gas flame until blackened in spots, then wrap in a dish towel to sweat. Peel off the skin and make a slit to remove the seeds and veins. Chop coarsely and add to a blender jar with the serrano, garlic, onion, spinach, cilantro, cumin, peppercorns and oregano. Blend and taste, then add ¾ teaspoon salt, or to taste, and blend again until smooth. If the sauce doesn't break down right away, scrape down the insides of the blender jar and blend again. (Water can make the sausage soggy, so try not to use any unless you absolutely have to.)
Place the sauce in the refrigerator for at least 1 hour. At the same time, place the meat, fat, meat grinder (if using) and mixing bowl in the freezer for 1 hour. If using already ground meat, proceed to step 4.
Remove the items from the freezer, add the meat and fat to the grinder, and grind as per manufacturer's instructions.
Stir in 1 ¼ teaspoons salt, the peanuts, and the pecans. Using a standing mixer fitted with the paddle attachment, or by hand if desired, mix the cold sauce and apple cider vinegar into the ground meat until fully absorbed and slightly sticky. At this point the sausage can be refrigerated in an airtight container for up to 2 days, or longer if frozen.
Heat a large skillet to medium heat. Add the sausage in a more or less even layer— you may have to cook it in batches—and cook, stirring often, until the sausage is no longer pink and slightly crisp in spots, 7 to 10 minutes.
Serve in tortillas, passing lime wedges and salsa at the table.
Source: Eat Mexico by Lesley Tellez [Kyle, 2015]