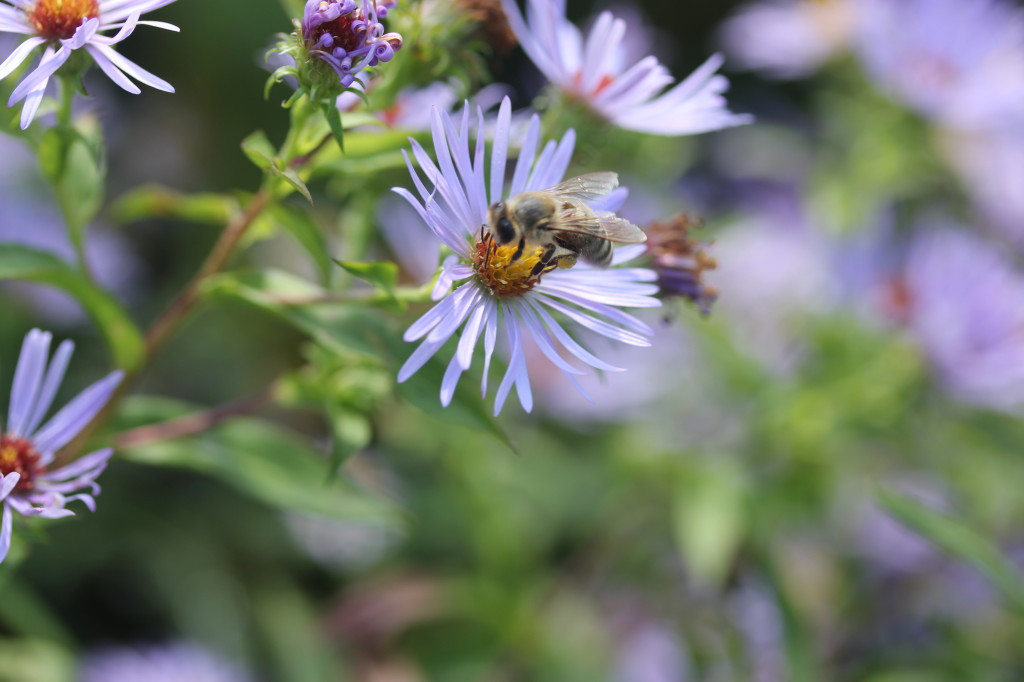 It always helps to begin with the beginning. I'm pretty sure that is a bee in the picture. I got close, but I did not want to get that close.
Bees, of course, are endangered. Suzen and I attended a seminar so we could have our own hive. The problem with doing that is the bears. You need an electric fence around the hive and the hive boxes have to be chained together so they are not destroyed when the bear has destroyed the electric fence.
We spoke with a man who estimated his honey cost him $600/pound, given all the gadgets you need for protection.
Rather than create a small Alcatraz, we've elected to buy our honey.
On a morning biscuit, nothing could be more wonderful than honey butter. Here's just the recipe to let you make your morning perfect. And, if honey is not your preference, you can substitute jam or preserves.
Just try to plant some lavender or other plants that bees can thrive on. They need our help and we need the honey.
Honey Butter
Yield: 1 cup
Ingredients:
¼ pound [1 stick] butter, softened
¼ cup honey
Preparation:
In a medium bowl, place the softened butter and honey. Beat with an electric mixer until light and fluffy. If you are using a stand mixer, then the whip attachment is your tool of choice. But even better, this is a time to use one of the small hand mixers. You can find excellent ones now for under $20 and they actually do a better job in this situation than the stand mixer. You just have that extra control that only an able wrist can provide.
Sources: Thanksgiving Cookbook by Holly Garrison