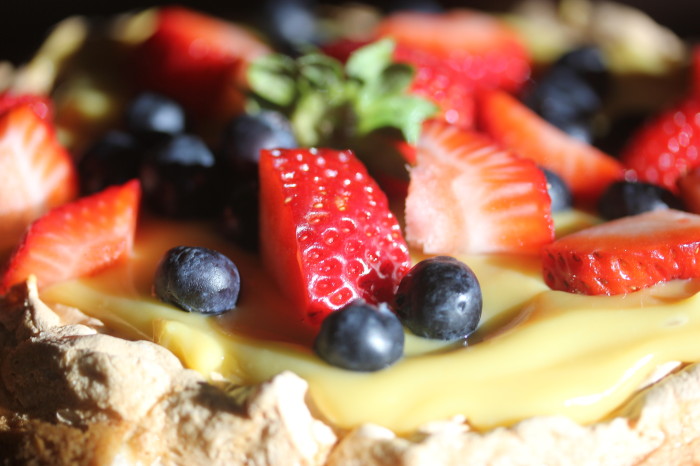 Earlier this year I posted a delectable recipe from Vintage Cakes. The Blitz Torte featured two layers of cake with honey custard in between, and, in our modification, on top. Add berries and this torte is truly, dramatically wonderful
But, it does not stop there. The honey custard is idyllic by itself. Keep the custard and the berries but change the foundation for an easy holiday dessert. You can make a meringue ring, and adorn with custard and berries. Make regular shortbreads and have berry shortbread, but now with honey custard instead of whipped cream. You can even buy those little sponge cakes in the store, fill them up, and eat away.
Honey Custard

Yield: 8 to 10 servings

Ingredients:

¾ cup whole milk
2egg yolks
⅓ cup ( 4 ounces) honey
¼ teaspoon fine sea salt
1 ½ tablespoons cornstarch
2 tablespoons (1 ounce) unsalted
Preparation:

Heat the milk over low heat in a small saucepan until hot but not boiling. Meanwhile, thoroughly whisk together in a small bowl the egg yolks, honey, and salt, and then whisk in the cornstarch. Slowly whisk one third of the hot milk into the yolk mixture. Pour this mixture back into the saucepan with the hot milk and gently cook over medium-low heat, whisking steadily, until the mixture begins to thicken and has been bubbling for roughly 1 minute. You will need to stop whisking for a moment to check if it is bubbling. Strain the mixture through a fine mesh sieve into a clean bowl and whisk in the butter until melted.
Place a piece of plastic wrap directly onto the surface of the custard and refrigerate at least until cool, about 1 hour, or keep in an airtight container in the refrigerator for up to 5 days.
Source: Honey Custard and Berry Dessert by Julie Richardson

Photo Credits: Canon T2i, macro lens at F/2.8, 1/100 second at ISO 100 [no flash]